The Museum has been collecting excellent works from various artistic fields such as paintings, sculpture, craft and photography, with a special emphasis on acquiring works in the following areas.
[Number of works in the collection]

7,422

(As of March 31st, 2021)

Collection Database
[Number of works in each field]

●Western Painting

42

●Crafts

469

●Japanese Oil Painting

253

●Photography

2,566

●Early Modern Painting /
Japanese-style Painting
454

●Sculpture

81

●Prints

3,306

●Calligraphy

16

●Watercolor Painting

24

●Design

94

●Drawing

117
Paintings with the Theme of Water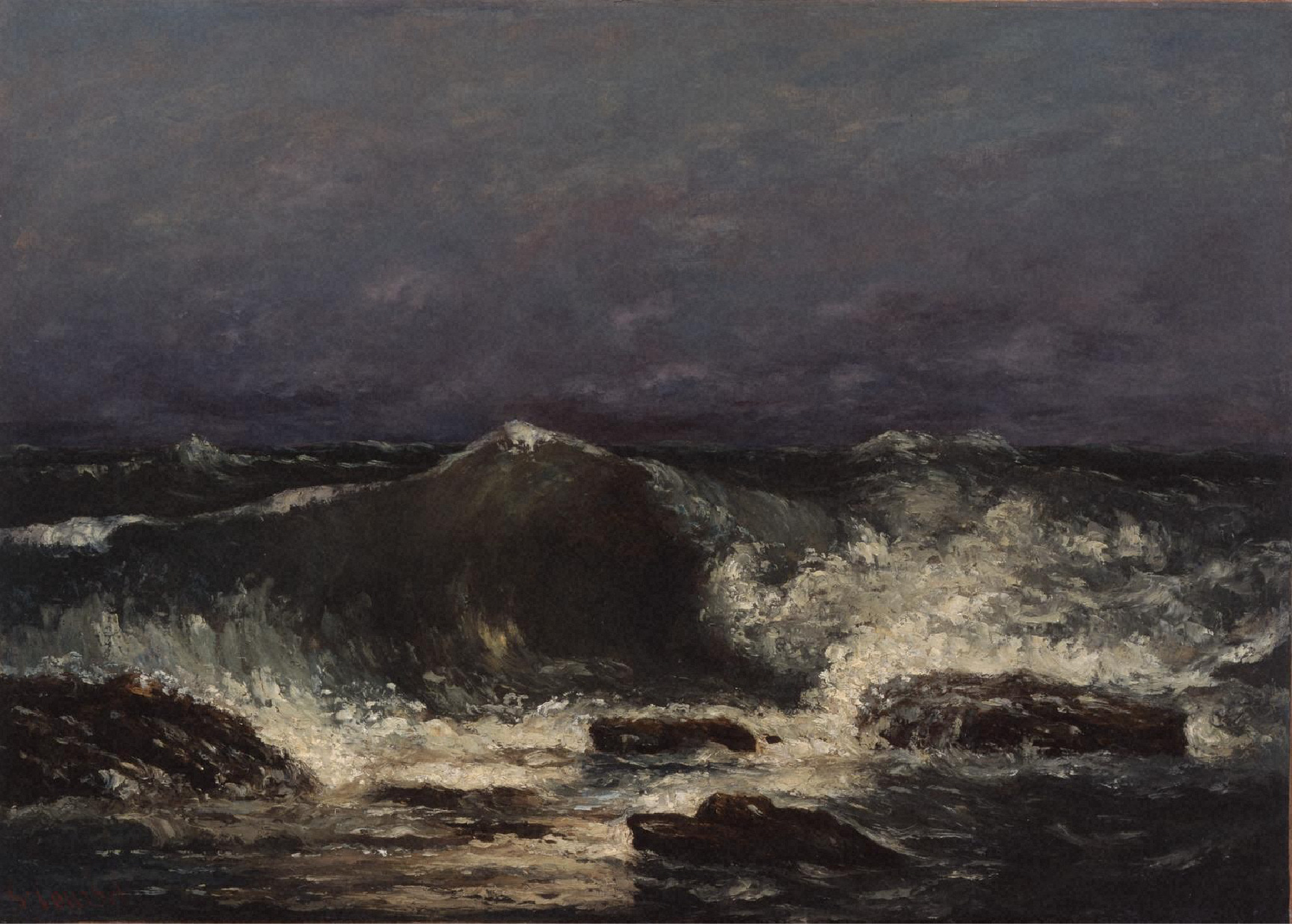 Gustave COURBET, The Wave, 1869
This museum, designed to harmonize with the view of Shinjiko Lake, has allocated "Paintings with the Theme of Water" as a significant area in its collection. Essential to life, water has always been involved in human activity and has featured in innumerable painting works.
In Japan, too, water has been expressed in many ways. From pre-modern era painting that evolved under the influence of Chinese painting, through ukiyo-e, which had a major influence on Western art, and to both Japanese- and Western-style painting in the modern period, as the nation increased its communication and exchanges with Western countries, the way in which water was expressed reflected the period, forms and methods of each time.
Additionally, in Western countries, nature itself came into focus as a theme in painting, and landscape painting that depicted the reality of nature was considered an important genre. Corot, Courbet, and the Impressionists and Fauvists, who all had a major influence on subsequent art movements, often painted landscapes featuring the motif of water.
We hope that you will enjoy the colorful expressions of water by artists of Japan and Western countries.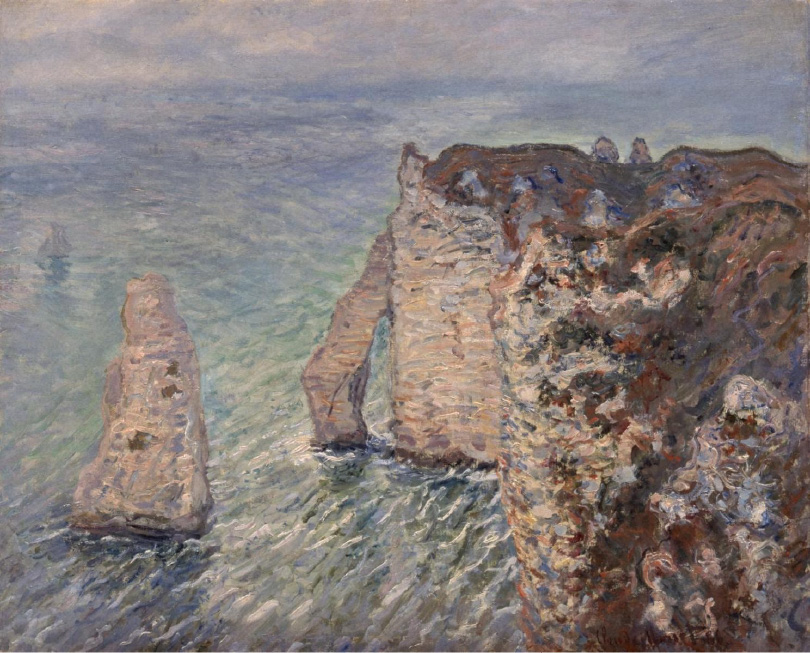 Claude MONET, The Rock Needle and the Porte d'Aval, 1886
The Étretat Landscapes of Courbet and Monet
Courbet took his place as one of the French painters of realism as an almost entirely self-taught painter, depicting the reality that he saw. During his stay in Étretat in Normandy, he created many landscape paintings with the waves and the sea as motifs, including this piece. Monet, one of the towering figures of Impressionism, also painted numerous works depicting the views of Étretat, just like Courbet's The Wave. The cliffs and strange rocks of Porte d'Aval and the island of Aiguille are among the most popular views of the coast of Normandy.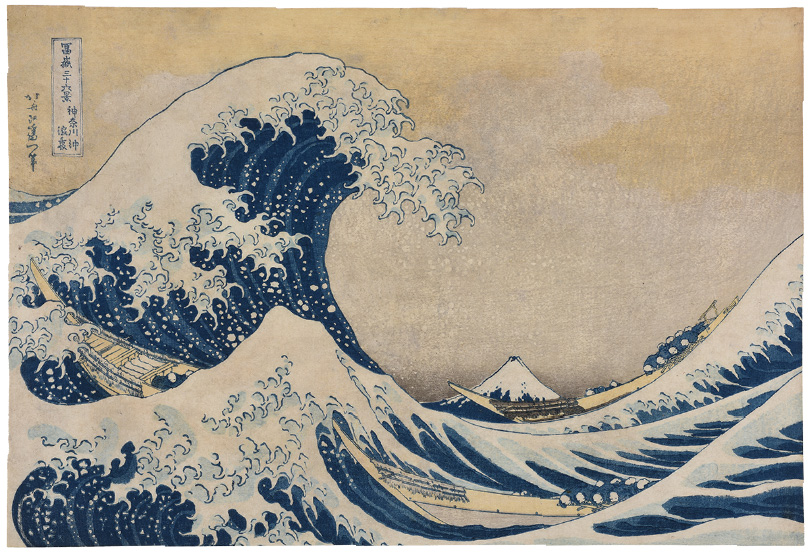 KATSUSHIKA Hokusai,Under the Wave off Kanagawa, from the series Thirty-six Views of Mount Fuji (Fugaku sanjūrokkei),ca. 1830-34, Nagata Collection
Waves as captured by Hokusai
Huge waves rise and foam, and a small boat among them seems uncontrollable. The waves are expressed with curved and diagonal lines in the foreground, and the blurred horizon in the background makes the magnificent Mount Fuji stand out. The dramatic contrasts of near and far, and of motion and stillness, are the focus of this work. Hokusai was interested in the behavior of waves, and distinguished comber and backwash in volume two of his Hokusai Sketches. In this piece, his sharp observation and depiction are realized in the attempt to capture the formless figure of water.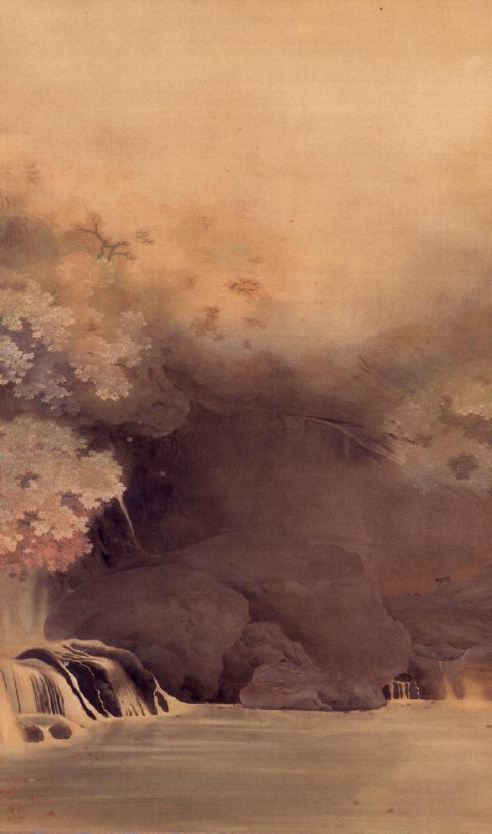 HISHIDA Shunso, Autumn Colors by a Mountain Stream , 1899
"Water" in Modern Japanese Painting
From the Meiji era onwards (1868-) , Japanese painters began to produce a lot of work influenced by Western methods of perspective and chiaroscuro. Hishida Shunso, who promoted innovation in Japanese painting along with Yokoyama Taikan, pioneered a new method of non-line drawing in response to a question from his master, Okakura Tenshin: "Is there any way to paint air?" This piece is an early work in the morotai (vague style). It is a large-scale painting, and the entire work utilizes a blurred effect to skillfully show the texture of moist air and a view of the water surface with red leaves.
Japanese Prints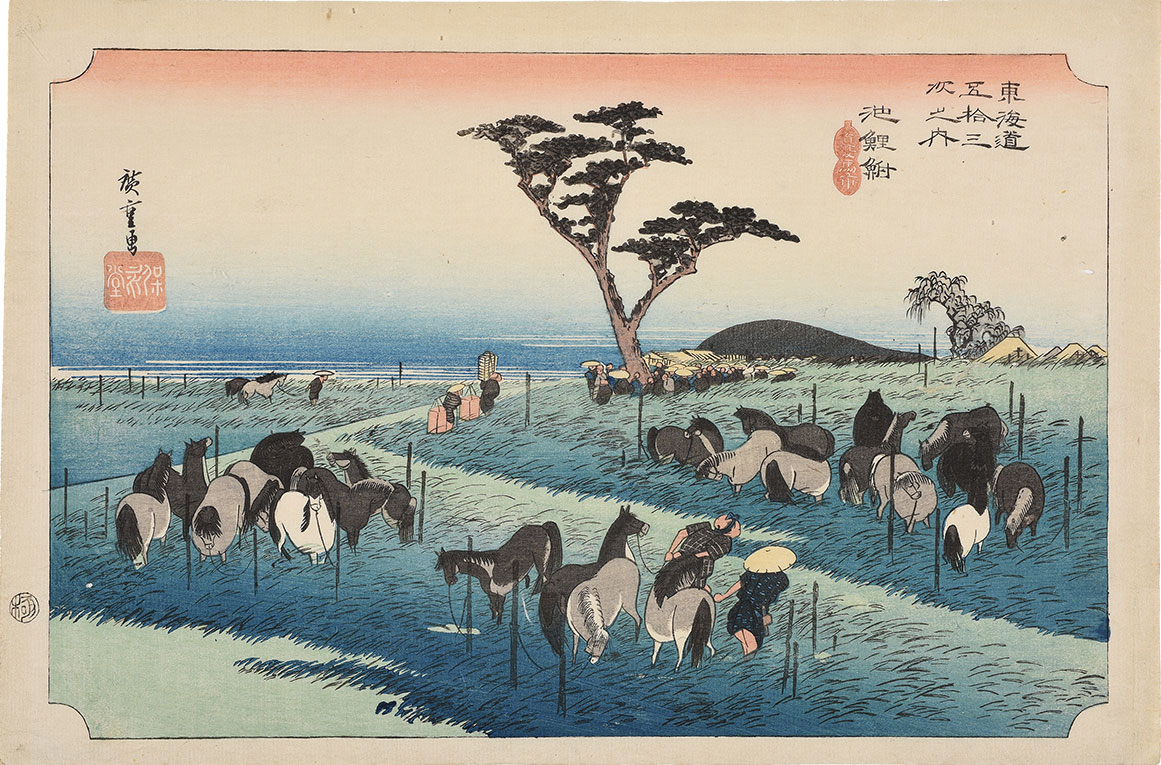 UTAGAWA Hiroshige, Chiryū, Horse Fair in Early Summer, from the series Fifty-three Stations of the Tōkaidō Highway (Tōkaidō gojū-san tsugi no uchi),ca. 1834-36, Shinjo Collection
One of the policies of our collection is to gather Japanese prints . The Shinjo Collection (472 pieces) and the block printing collection (363 pieces) are the core of our collection. The former was transferred from the predecessor of the museum, the Shimane Prefectural Museum, and originally belonged to ukiyo-e collector Shinjo Jiro, and the latter was the collection of block printing artist Hiratsuka Unichi, who led the 'creative print' movement. Both Shinjo and Hiratsuka were from Matsue. Adding to this core, we aimed to build a systematic collection that allowed one to grasp the overall history of Japanese printing art, and have been building our own unique collection. In 2017-2018 , we received the Nagata Collection of items relating to Hokusai from the Hokusai researcher Nagata Seiji, of Tsuwano. This has brought our collection to over 3,300 pieces in total (as of 2022). Its contents begin from early ukiyo-e block printing, and it includes major works of Katsushika Hokusai and Utagawa Hiroshige; Views of Famous Sights of Tokyo by Kobayashi Kiyochika from the Meiji era (1868-1912); pieces from the New Prints movement by Hashiguchi Goyo and others from the Taisho era (1912-1926); Creative Prints by Hiratsuka Un'ichi; and Kawase Hasui and Oda Kazuma's prints of landscapes in Shimane. It also includes work from well-known artists from the pre-war to contemporary periods, such as Hasegawa Kiyoshi, Hamaguchi Yozo, Hamada Chimei, Yokoo Tadanori, Lee U-Fan, and Yamamoto Yoko. It is a collection that is varied in both method and period.
KATSUSHIKA Hokusai, Rainstorm beneath the Summit, from the series Thirty-six Views of Mount Fuji (Fugaku sanjūrokkei),ca. 1830-34, Nagata Collection
A Masterpiece of
Ukiyo-e

Block Printing

The Japanese title, Haku-u means "summer rain shower." Although it is sunny at the top of the mountain, the hillside is dark with a fork of lightning, and it seems a sudden shower is beating down on the ground. The auspicious clouds, which give the work a strong impression, lead the gaze of the viewer to the lower area of the piece, the foot of the mountain, in absolute black as if expressing the infinite power of nature. From the condition of the printing block and the coloring on the mountain, this version from the Nagata Collection is thought to be a rare early printing.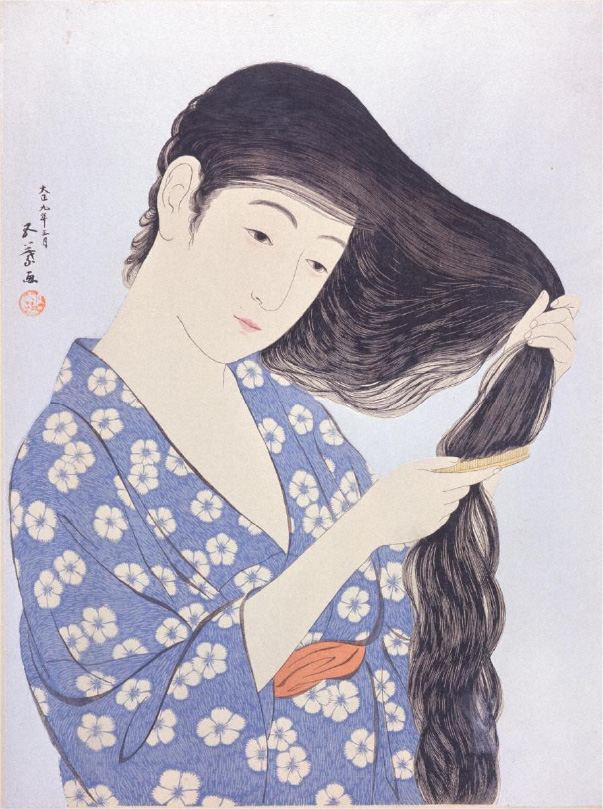 HASHIGUCHI Goyo, Woman Combing her Hair, 1920
The Pioneer of Shin-hanga (New Print)
The New Print movement provided a breath of fresh air to the traditional block printing industry at the end of the Meiji era (1896-1912) and through the Taisho era (1912-1926). Hashiguchi Goyo, the pioneer of the movement, produced pieces of elegant beauty, working together with carvers and printers in a process similar to that of ukiyo-e. This piece is said to have been created with a model that he found as he sought the "ivory neck " painted by the English painter Rossetti. The sensual woman combing her hair is expressed wonderfully in elegant lines and soft colors, and the background, painted with the kirazuri technique that uses mica powder throughout, makes the figure stand out vividly.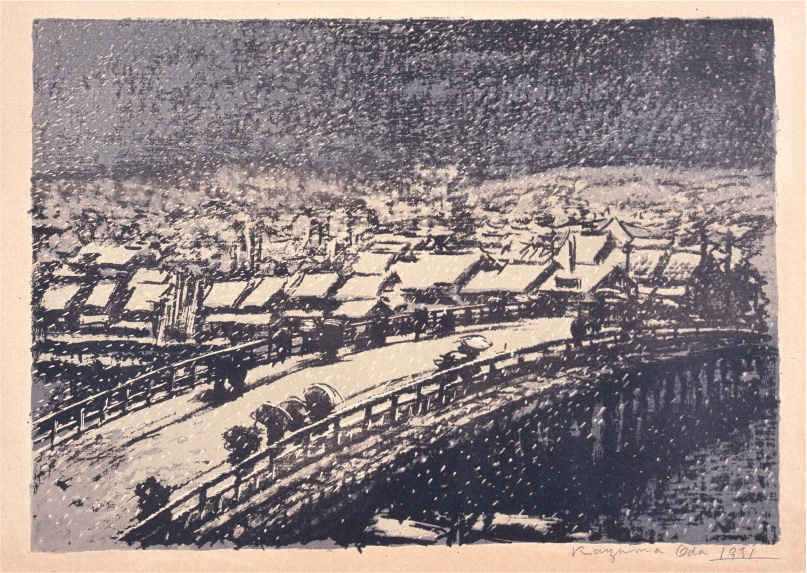 ODA Kazuma, Matsue Ohashi Bridge on a Snowstorm Night, 1931
Landscapes of Shimane in Sosaku-hanga (Creative Prints)
Oda Kazuma, who led the 'Creative Print' movement in the late Meiji era (around 1900) with a policy of "self-drawn, self-carved, self-printed," was invited to visit Matsue by local artist Unichi Hiratsuka in 1922. He remained there for a few years, and even opened a research institute for Creative Prints in Akayama, Matsue. Oda loved Matsue and painted many views of the waterside. He was particularly fond of Matsue Ohashi Bridge as a motif. In this piece he paints the bridge from a bird's-eye view, depicting a blurred image of Matsue in a snowstorm with the soft touch unique to lithograph printing , giving it rich nuances.
Photography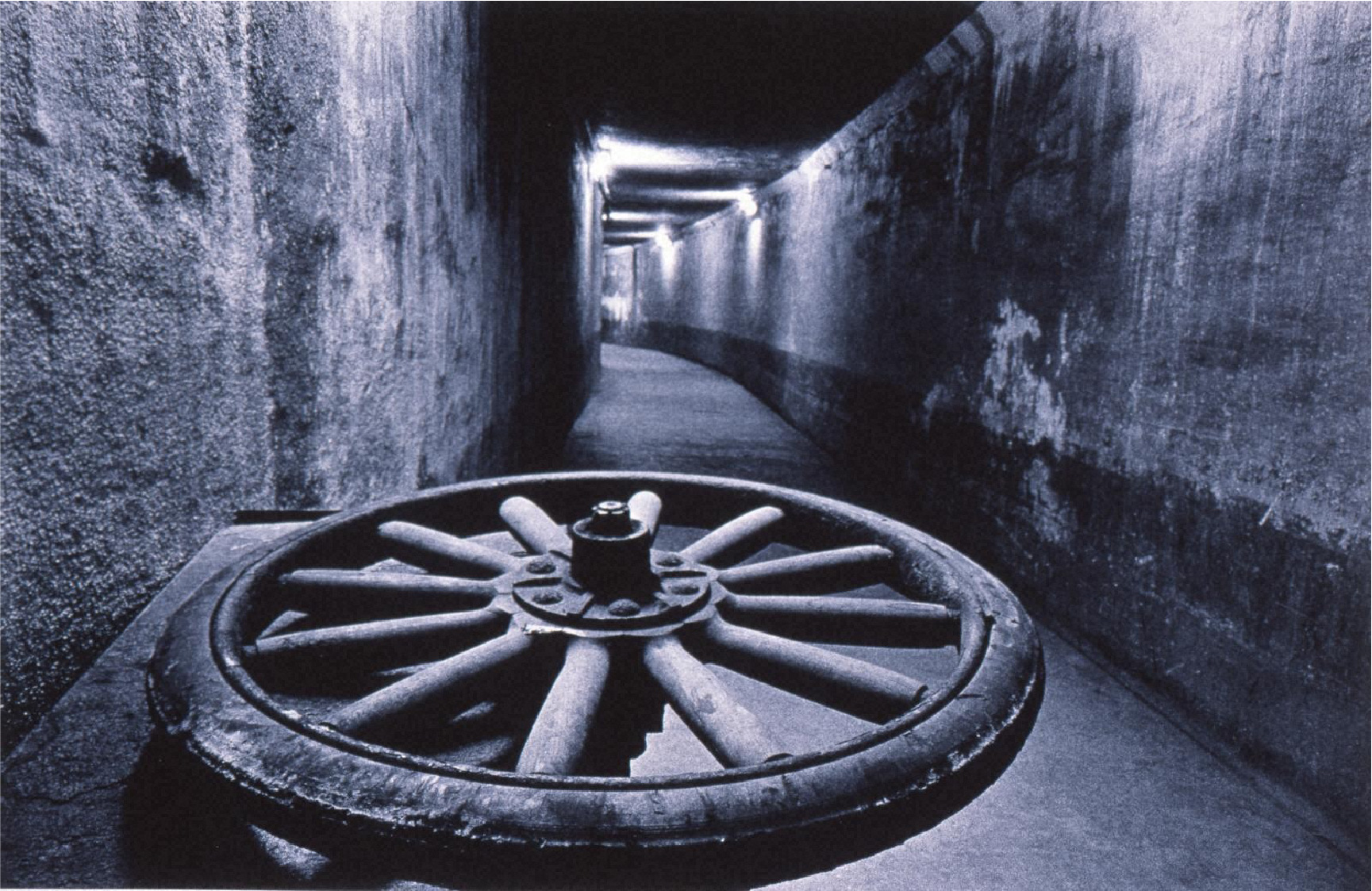 NARAHARA Ikko, The Tunnel: Island Without Green, Gunkanjima, 1957, from Human Land © Narahara Ikko Archives
Matsudaira Naritake, the 9th lord of Matsue, was a leading figure in the introduction of photography in the San-in region, which took place in Matsue Domain in the Bunkyu period (1861-1864). Since then it has produced a significant photographer in each period: Kamei Koreaki in the Meiji era (1868-1912); Shiotani Teiko in the Pictorialism period between Taisho and early Showa (the 1920s and 30s ); Ueda Shoji in the period of modernism, Narahara Ikko, leading Japanese post-war photography; and Moriyama Daido, known as one of the top artists in the world today. While celebrating these epochs, the photography section of the Shimane Art Museum has built a collection that traces the history of photography "From Daguerreotype to the Present ." International works are collected with the relationship between photography and painting in focus, and include work mainly from France and the US, but also from the UK, Germany, and Austria. The museum's collection has roughly 4,000 pieces that illustrate the history of domestic and international photography, and it holds four exhibitions a year on different themes, featuring about 120 pieces each time.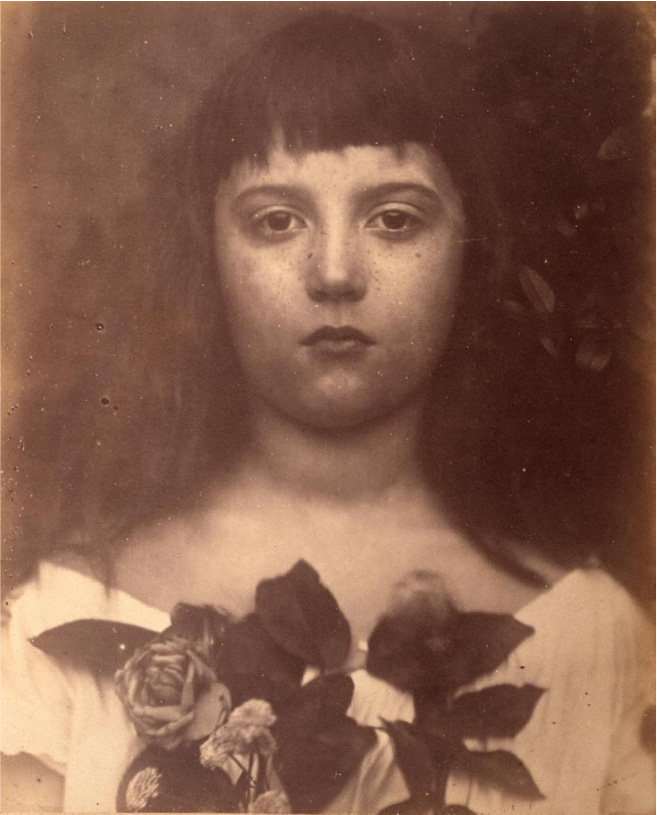 Julia Margaret CAMERON, Florence, 1872
International Photography
We will introduce a group of work by photographers who encompass the history of photography from daguerreotype to today. In particular, we are interested in the relationship between painting and photography in our collection. The themes we explore include "French photography", with its rich flavors of 19th century France; "Pictorialism", which spread throughout Europe in the late 19th and early 20th centuries and became a form of art equal to painting; and areas that made use of the advantageous mechanical eye of the camera through the two wars, such as "Modern Photography" and "Camera Work"; and on through 20th century photography in America in "America's Century." In addition, Bernard Faucon is introduced in a solo exhibition based on his photography book Summer Vacation .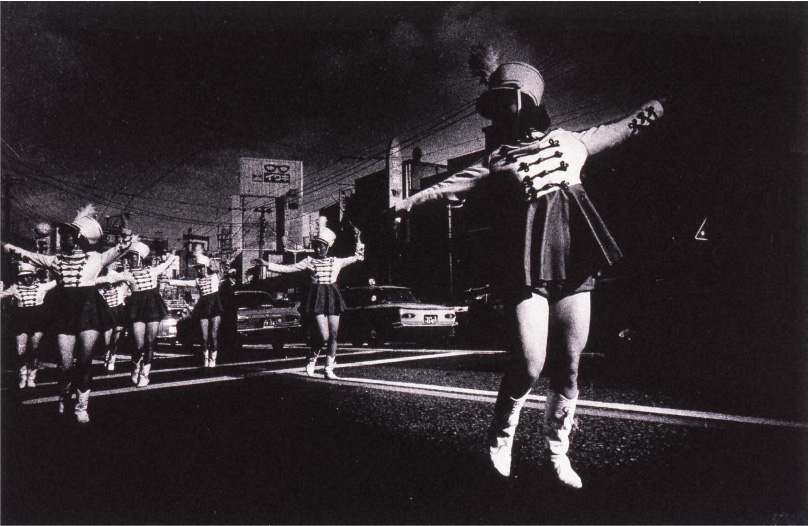 MORIYAMA Daido, Baton Twirler, 1967, from Japan, A Photo Theatre ©Daido Moriyama Photo Foundation
Photography Related to Shimane 1
In terms of the Japanese photography collection, we place significance on photographers from the San-in region, such as Narahara Ikko, Moriyama Daido, Shiotani Teiko and Ueda Shoji. Narahara Ikko appeared with his solo exhibition Human Land after the war, and transformed existing expressions in Japanese photography . We hold the largest collection of Narahara's work in the world. Moriyama Daido, too, created a cutting-edge photographic art that overturned the conventional expressions of photography, leading to his recognition as one of the top artists in the world. We also hold 52 pieces from Sugimoto Hiroshi's Seascapes series including some depicting the sea of Oki.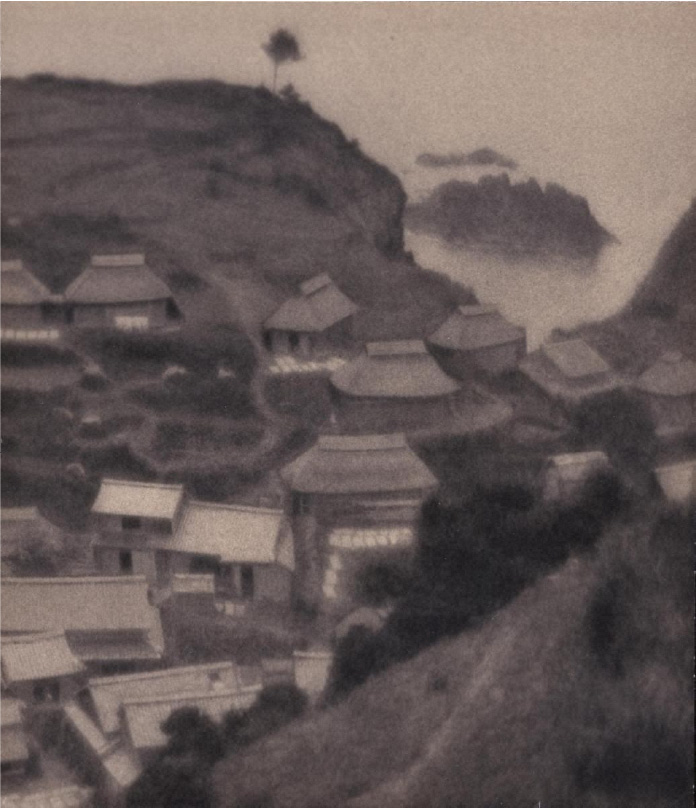 SHIOTANI Teiko, Bird's-eye View of a Village, 1925
Photography Related to Shimane 2
In the Meiji era (1868-1912), Kamei Koreaki, the 13th head of the Kamei family (which had ruled the Tsuwano Domain), brought photographic techniques from Germany, and aspired to stimulate the progress of art in Japan. Shiotani Teiko was active in the period of Pictorialism from Taisho to Showa (the 1920s and 30s ). His masterpiece, Bird's-eye View of a Village, a shot of Okidomari on the Shimane Peninsula, is held in our collection, along with another 750 beautiful pieces of his art, which were created with his own unique method of applying a medium to photographic paper, painting with oil, and finishing with candle soot. Ueda Shoji, of a later generation, created his own distinct style in "a group on a sand dune ", and contributed to the peak of photographic modernism in the natural settings of San-in, such as the sandy beach of Sakaiminato, the dunes of Tottori, the Shimane peninsula, and the Hikawa Plain. Both artists received international acclaim.
Wooden Sculptures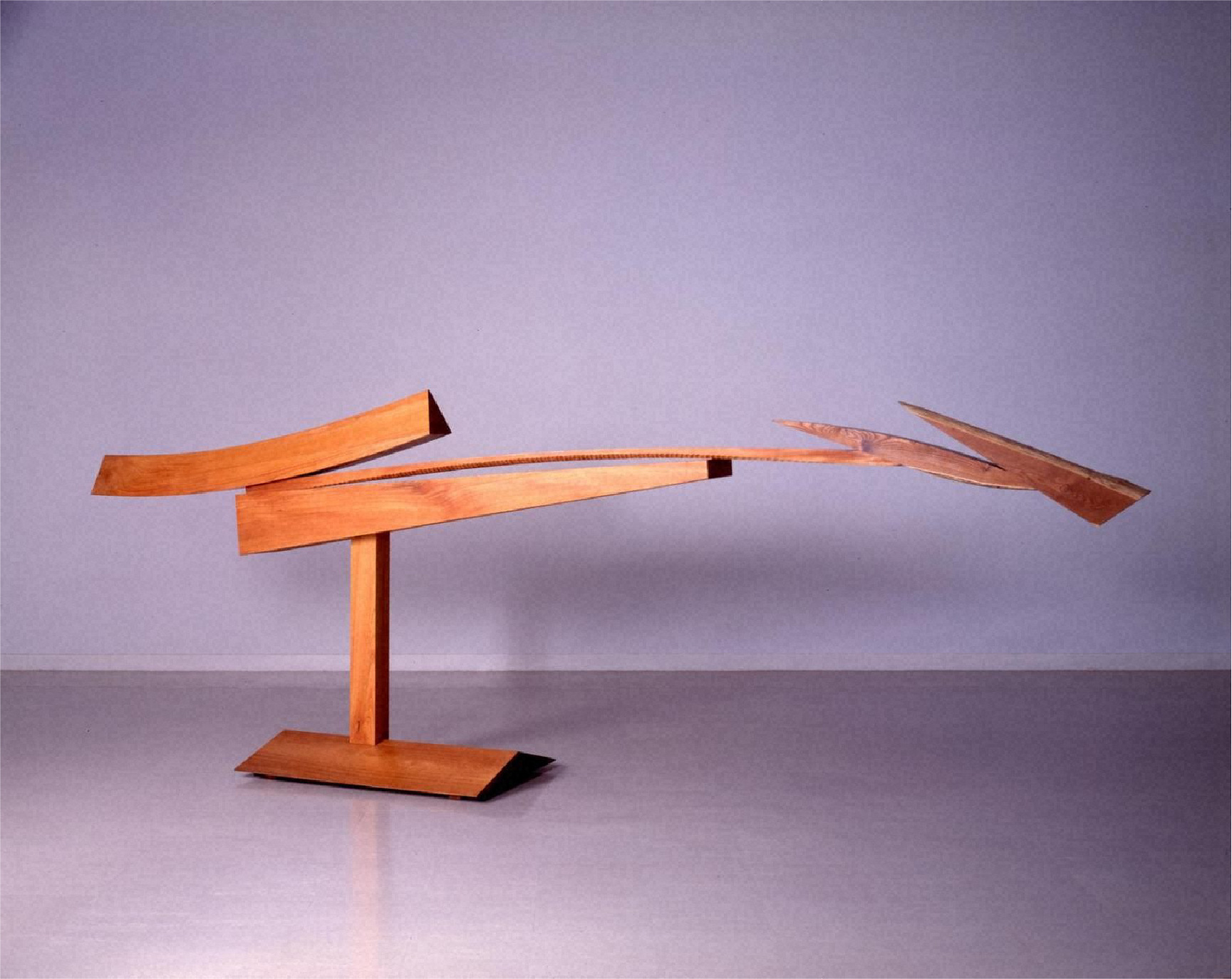 SUMIKAWA Kiichi, Yielding Form, 1992
In Japan, with its rich forest culture, wood can be said to be a very familiar presence that surrounds our everyday life. In the history of three-dimensional art, wood had been worked in various ways before the concepts of 'sculpture' or 'craft' were born in the Meiji era (1868-1912). An object created from one solid piece of wood represents the character of the original tree well, while an object created from multiple parts allows for freedom in structure. In the contemporary world, processed woods, such as plywood, are also used in sculpture.
With its rich natural environment and culture of wood work, Shimane has produced many artists who express themselves in wood, including Yonehara Unkai (1869-1925) and Kato Keiun (1875-1943), who were founding members of the Japan Society of Sculpture (which was organized by Okakura Tenshin), and Sumikawa Kiichi (1931-), who works with the themes of concave and convex curves . We collect domestic and international wooden sculptures, with modern wooden sculpture at the center.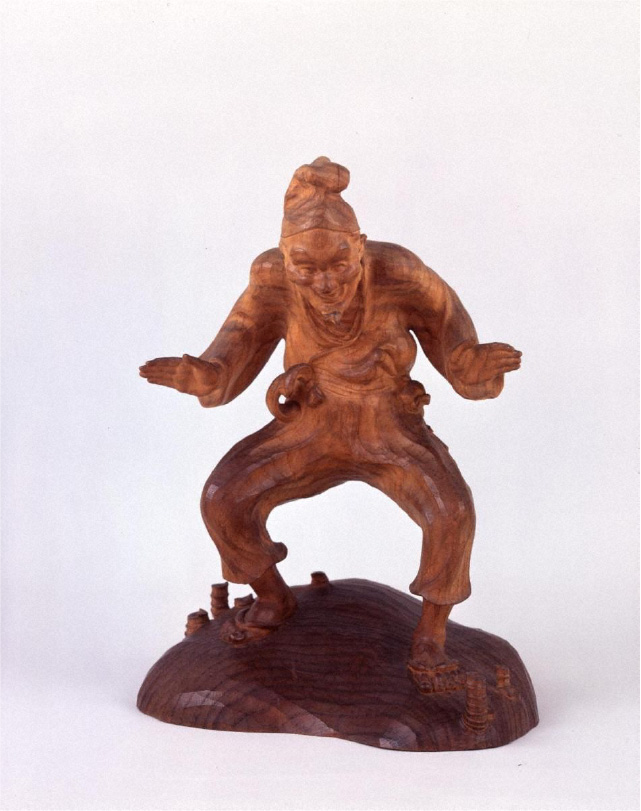 YONEHARA Unkai, The Bamboo Cutter(from The Tale of the Bamboo Cutter), 1921
Modern Wooden Sculpture Related to Shimane
Arakawa Kisai (1827-1906, born in modern day Matsue) grew up in the Edo period and used very fine craft techniques from then into the Meiji period, and Yonehara Unkai (1869-1925, born in modern day Yasugi) was a leader of wood sculpture among the generation that went to Tokyo to study under Takamura Koun (1852-1934). Kato Keiun (1875-1943, born in modern day Yasugi) had a high level of descriptive skill and a strong connection to Koun, and Naito Shin (1882-1967, born in modern day Unnan) developed a method of sculpture that he called 'spiritual sword carving '. We have a wide collection of the modern wood sculpture that was developed in Shimane.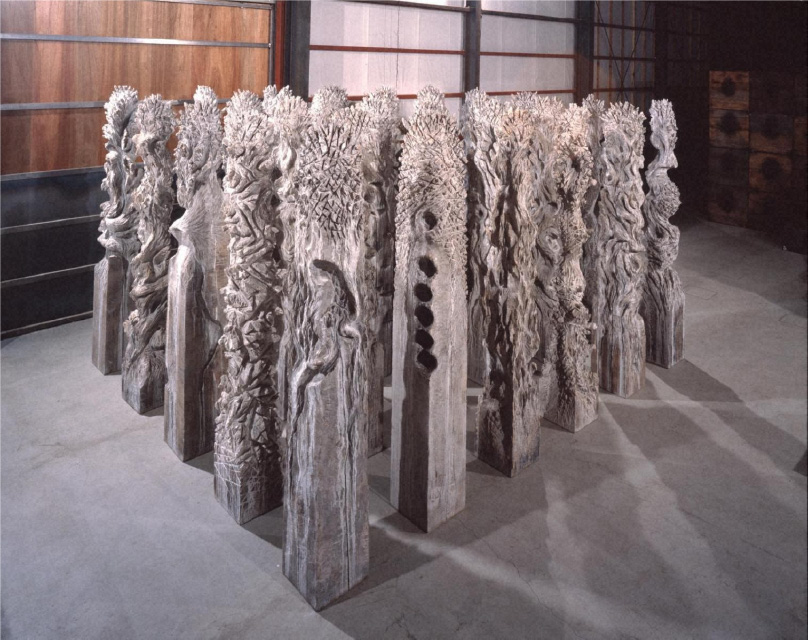 TOYA Shigeo, Woods VII, 1993
photo: Muto Shigeo
Contemporary Wooden Sculpture
The expression of form in wood is demonstrated in various approaches: from the warm organic forms of Ueki Shigeru (1913-1984), to the laminated plywood layers of Tatehata Kakuzo (1919-2006), the chiseled holes of Toyofuku Tomonori (1925-2019), the chainsaw-marked traces of Toya Shigeo (1947-), and the carbonized bark of Endo Toshikatsu (1950-). It is a traditional material, yet it never ceases to be approached in new forms and artistic approaches. We have a collection of contemporary sculpture in this material.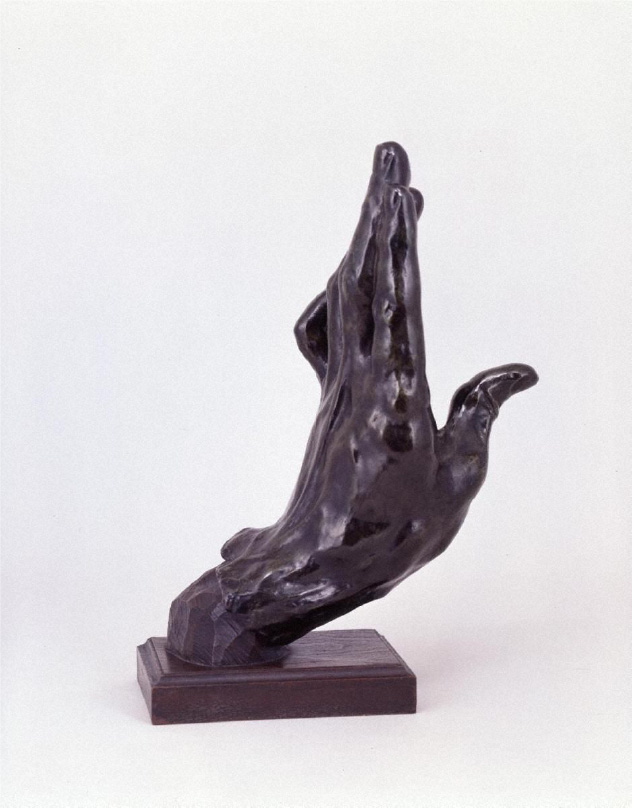 TAKAMURA Kotaro, Hand, 1918
Japanese Modern Sculpture
This section introduces work by Takamura Koun (1852-1934), who integrated the realism of Western art with wooden sculpture from the Edo period (1603-1867) to develop to a modern style, his son Takamura Kotaro (1883-1956), the artist who introduced contemporary French thought to Japan – particularly François-Auguste-René Rodin – and who led the modern sculpture scene, and Ogiwara Morie (1879-1910), who had a huge influence on the sculptural world with his refreshing forms filled with a sense of life. They are presented alongside other artists who hold significant places in the history of modern sculpture in Japan.
Shimane Artworks (Japanese-style Painting)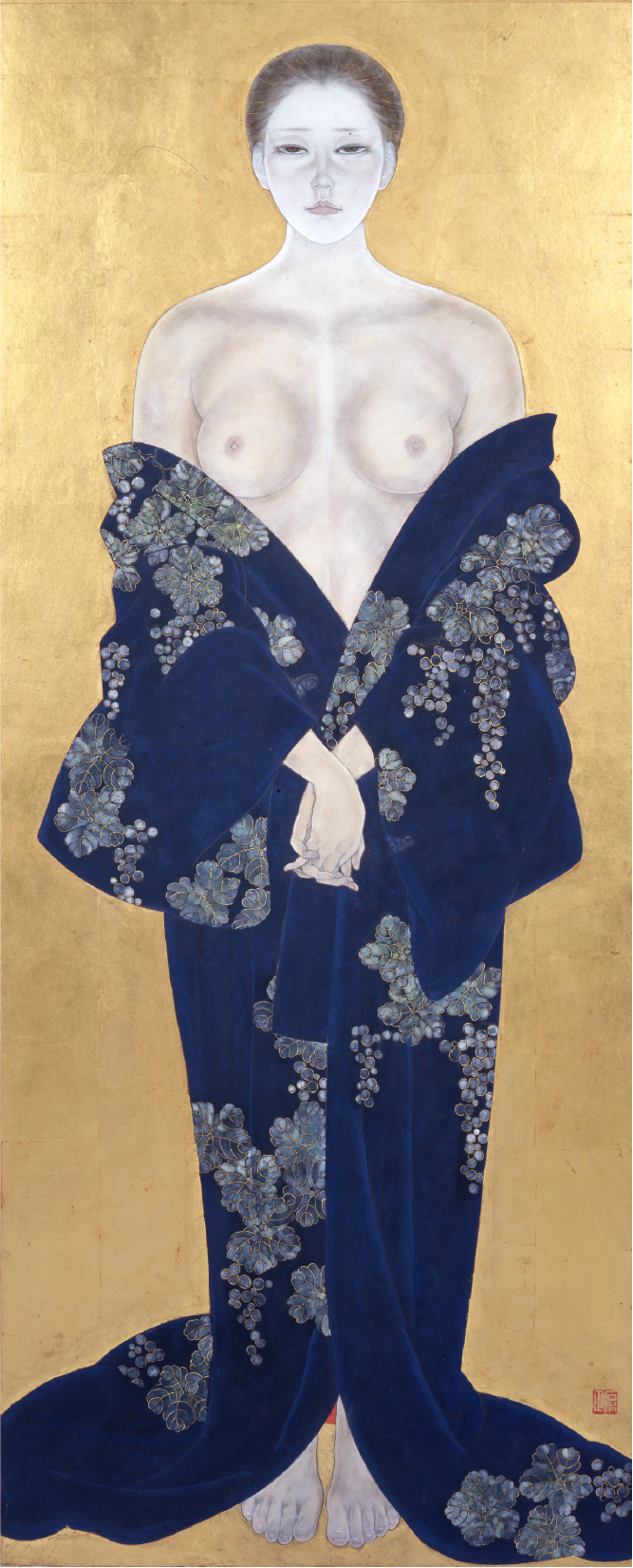 ISHIMOTO Sho, Standing Nude, 1980
The leading light in the collective art activity of modern Japanese painting in Shimane was the San-in Painting Association, founded around the 1890s under the organization of Wada Suiun, which became a place for local Japanese painting artists to develop through its exhibitions and other activities. Other notable artists who visited Shimane included Tanomura Chokunyu, Tomioka Tessai, Yokoyama Taikan, and Yamaoka Beika in the Meiji era, and Hayami Gyoshu and Omoda Seiju in the Taisho era. Chokunyu and Seiju, in particular, stayed for extended periods in order to paint views of Shimane.
Among artists from Shimane, Tanaka Raisho (Onancho), Nakahara Hoen (Misatocho), Omura Taiun, Ochiai Rofu and Takeda Kason (all from Izumo) are all well-known, and Nishi Seiun of the Nanga School (a school of Chinese painting which enjoyed popularity in Japan during the Edo period (1603-1867)), who traveled to China and founded the Shanghai Nanga Institute, was also born in Ota in the prefecture. Later, Hashimoto Meiji and Ishimoto Sho played significant roles in post-war contemporary Japanese painting. They were both born in Hamada, and had outstanding reputations for their portrayal of beautiful female figures such as Maiko dancers and nude women. Ishimoto's feelings towards his hometown culminated in the opening of the Hamada City Sekisho Art Museum, which now holds and shows the majority of his works.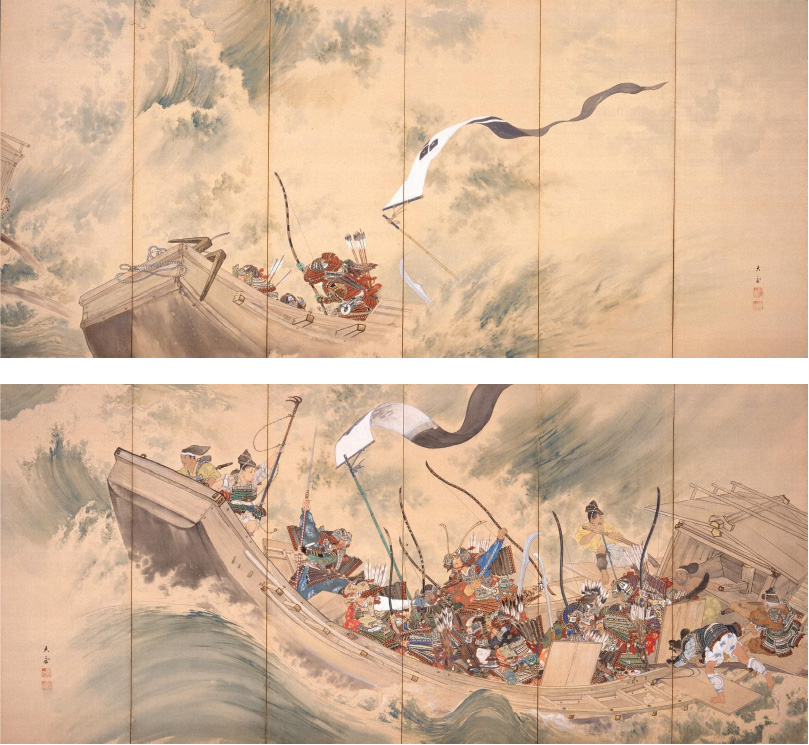 OMURA Taiun, Kamikaze, ca. 1917
Omura Taiun
Omura Taiun was a Japanese painting artist who was born in Hiratacho, Izumo, in Shimane. He was taught by Yamamoto Shunkyo of the Kyoto art circle, and was later considered one of the big four who supported Shunkyo's private art school Sanae-Kai. Taiun submitted a work with the same title as this piece to the 11th Bun-ten in 1917, receiving a special honor and the same prize that he had won in the previous year's edition, and this painting was produced again by commission. The motif is the Mongol invasions of Japan in the Kamakura era (in 1274 and 1281), and he depicted the brave fight of the Japanese army against the attacking Mongolian forces, based on meticulous historical research. The fine details of the battle-gear are worthy of close attention.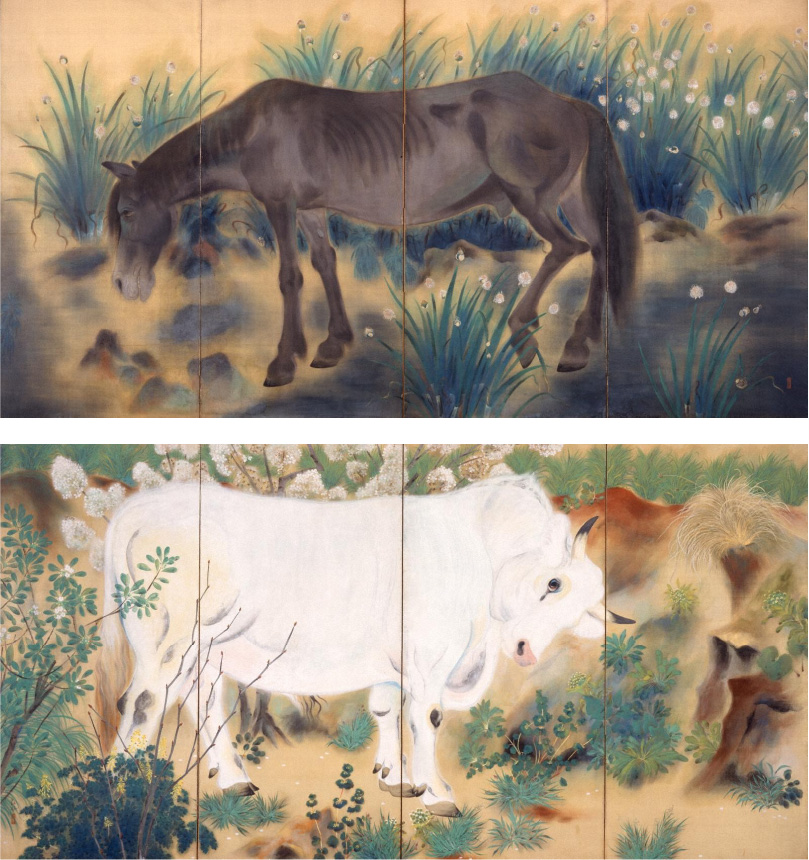 OCHIAI Rofu, Fat Bull and Lean Horse, 1921
Ochiai Rofu
Ochiai Rofu was a Japanese painting artist who was mainly based in Tokyo before his sudden death at the age of 40, who produced work in a bright and modern style. His father was from Hirata in Shimane, and Rofu grew up there and remained a registered citizen there all his life. This folded screen is a confident piece that was submitted to the 8th In-ten. The left panel depicting a fat bull was selected, but the right one depicting a lean horse was not. Dissatisfied with this judgment, Rofu stopped submitting to the Nihon Bijutsu-in and moved to Kyoto. These paired works were held in separate collections for a long time, perhaps as a result of the judgment of the In-ten.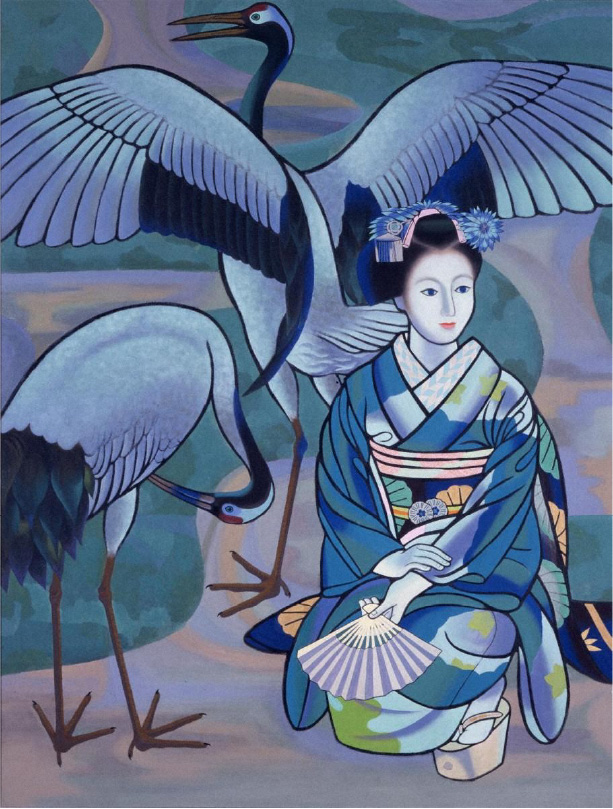 HASHIMOTO Meiji, Maiko with Cranes, 1969
Hashimoto Meiji
Hashimoto Meiji was a Japanese painting artist from Hamada. His individual style of dynamic composition, strong lines and clear coloring was known as the 'Hashimoto style', and upon the establishment of this style his work was seen a lot in Nitten exhibitions. This piece was Hashimoto's submission to the 1st Nitten after it was reorganized, and features his familiar motifs of cranes and Maiko dancers in the same frame, with a semi-abstract background that is evocative of the flow of a river. In order to create this work, Hashimoto visited Kushiro Marsh in Hokkaido – a famous habitat of cranes – for the first time, to make sketches.
Shimane Artworks (Western-style Painting)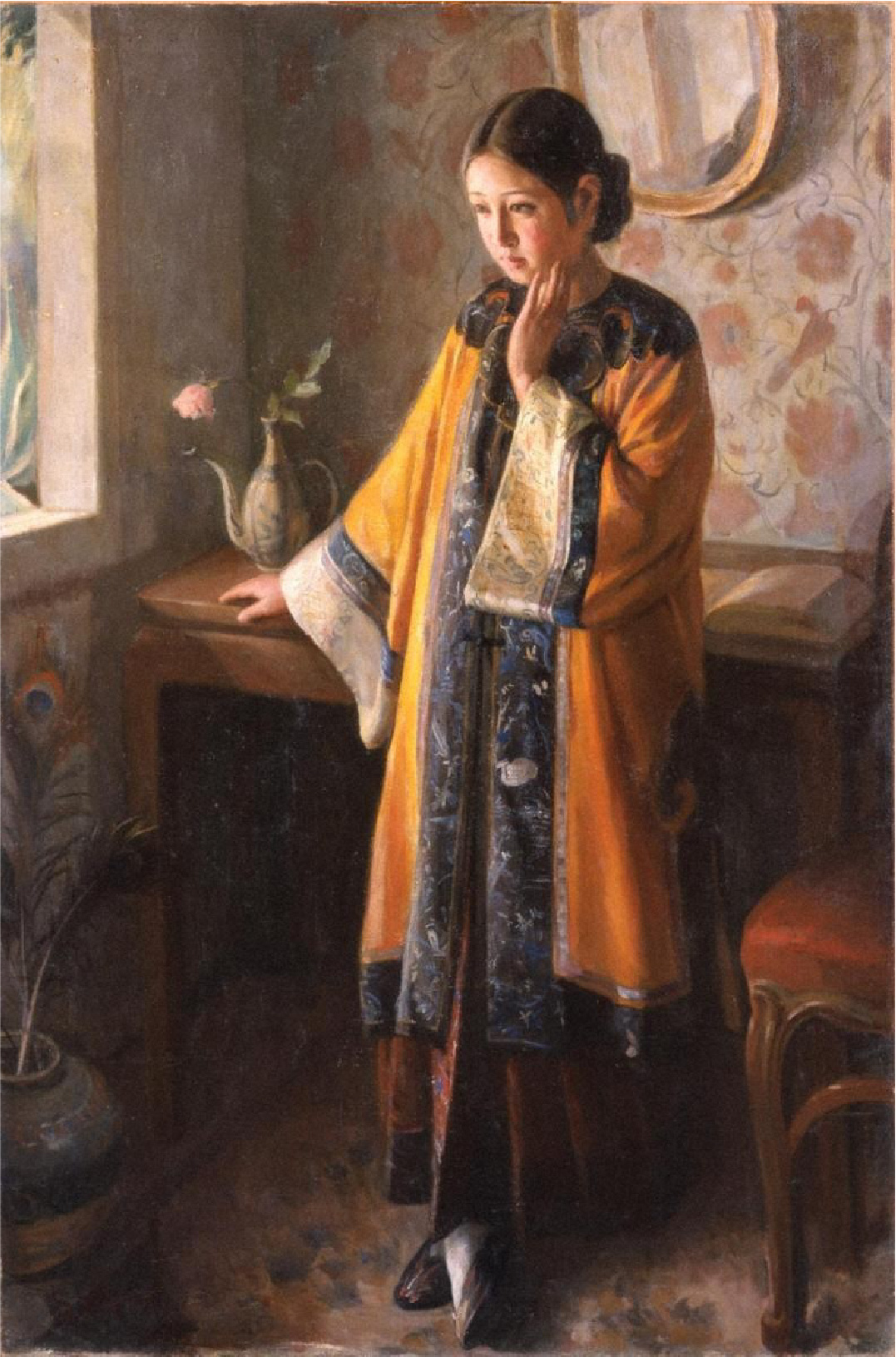 YATA Seishiro, Girl Wearing Chinese Clothes, 1927
The history of Western-style painting (a comprehensive term that refers to oil and watercolor painting in the style of the Western world) in Shimane is said to have begun with Azukizawa Hekiko, from Matsue. Having learned photography and Western painting in Yokohama the first decade of the Meiji period (around the 1870s), Hekiko temporarily returned to Shimane in 1882 and was the first person to teach the techniques of Western painting there. Among those who studied under him were Hori Rekizan and Morimoto Kokoku. The former opened the Hoen-gakusha painting school in Matsue, and endeavored to spread the Western style of painting, and the latter played a role in extending watercolor to public education. Ishibashi Kazunori , who studied in Rekizan's Hoen-gakusha, later traveled to the UK and became known as a portrait painter, and Yata Seishiro, who studied under Ishibashi at one point, went on to Tokyo Fine Arts School and painted elegant portraits of women – this is just some of the lineage we can trace back. The end of the Meiji era (the early 1910s) saw a national watercolor boom, and in Matsue watercolor seminars were held, with Oshita Tojiro and Maruyama Banka as guest lecturers. Young artists such as Kusamitsu Nobushige, Kimura Yoshio, and Hiratsuka Un'ichi eventually came to lead the Western painting society of Shimane, and to found the post-war Shimane Yogakai (Western Painting Association).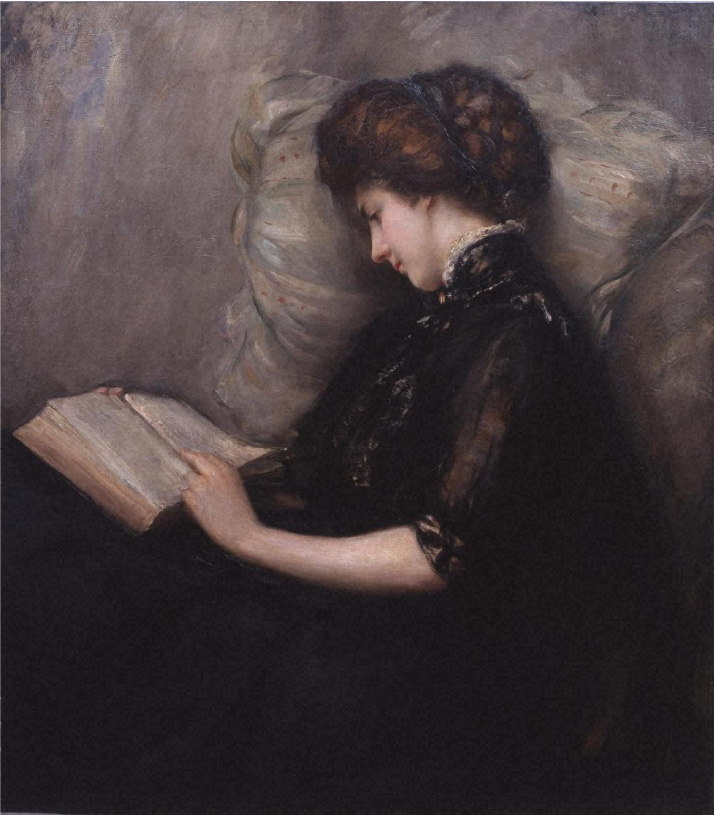 ISHIBASHI Kazunori , Lady Reading Poetry, 1906
Painters of Shimane who Traveled Abroad
Ishibashi Kazunori , born in today's Izumo, traveled to the UK in 1903 and studied traditional English portrait techniques at the Royal Academy of Arts in London. After he graduated, he was active as a portrait painter in and out of Japan. This piece, Lady Reading Poetry, shows a woman leaning on a cushion to read a book, and is said to depict an English actress. The black dress brings out her prim profile, capturing the gaze of the audience. It is one of the cornerstones of our collection.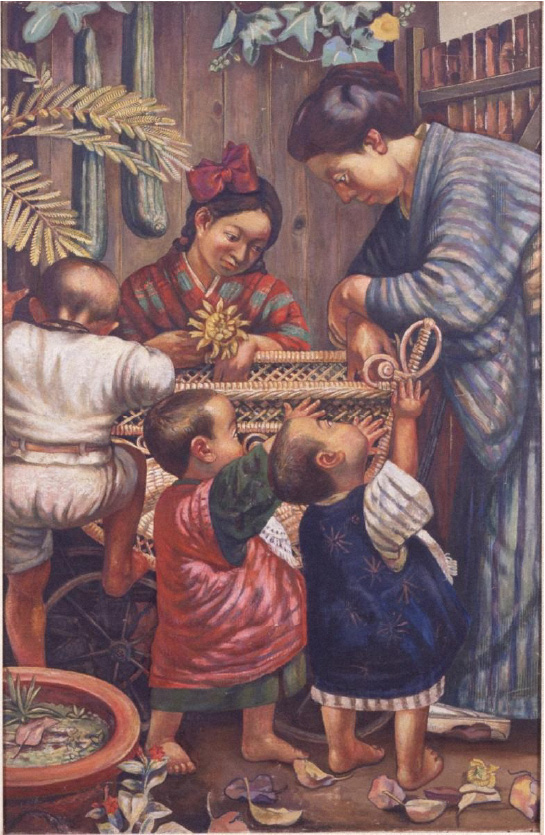 KUSAMITSU Nobushige, Four Children, 1927
Working in the Capital
Young artists who were enlightened by art in all regions of Japan, as well as Shimane, usually went to Tokyo to pursue their studies. Kusamitsu Nobushige, who was from Izumo, studied at the Tokyo Fine Arts School (now the Tokyo University of the Arts) and achieved the feat of being awarded at Tei-ten, the exhibition sponsored by the government at the time, with the highest honor three times, including for Four Children, which he showed just after graduating. Similarly, Yata Seishiro, an artist from Izumo who studied at the Tokyo Fine Arts School and favored elegant portrayals of women that evoked work by his master Okada Saburosuke and Kobayashi Mango, had the great achievement of being selected at the Tei-ten while he was still studying at the school.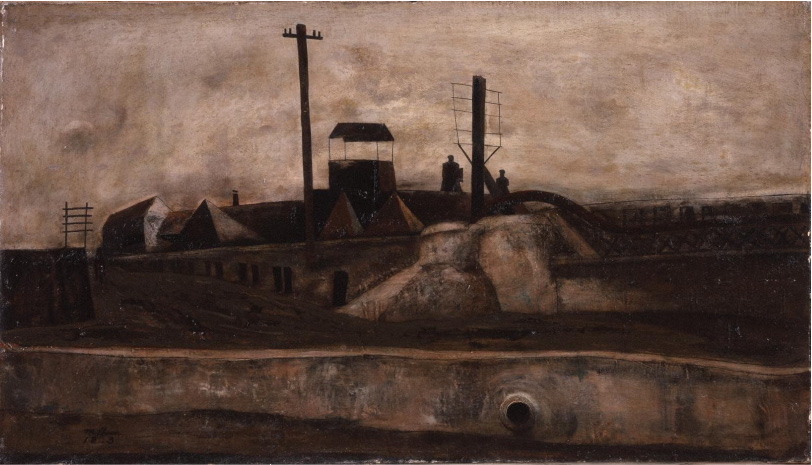 MATSUMOTO Shunsuke, Near the Railroad Bridge, 1943
Painters Related to Shimane
Although not from the prefecture, artists such as Koizumi Kiyoshi, the third son of Koizumi Yakumo (Lafcadio Hearn), and Matsumoto Shunsuke, who was laid to rest in Matsue, the hometown of his wife, should not be forgotten. Oshita Tojiro, Koide Narashige, Saito Yori, and other artists also visited the region and had a huge impact on young local painters, leaving an enduring influence. The beautiful climate of Shimane captured the hearts of many painters, as evident by the impressive landscape paintings of Kobayashi Mango and Suda Kunitaro.
Crafts in Shimane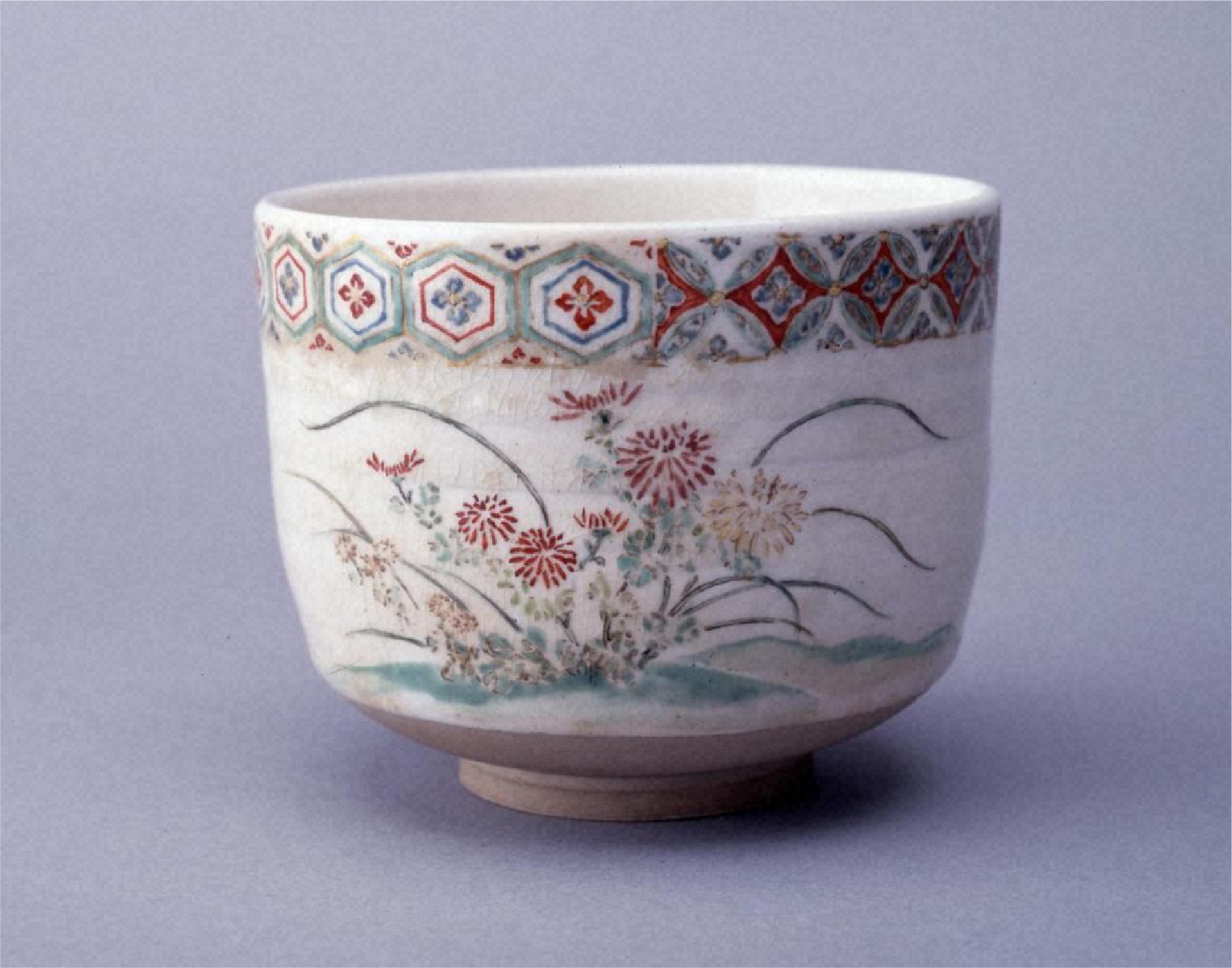 NAGAHARA Un'ei, Teabowl with autumn plants design in overglaze enamels, Fujina ware, late Edo period
Various kinds of craft have been created in Shimane, including pottery, lacquer, and wood craft.
In the Edo period (1603-1867), tea paraphernalia was created at the request of the Matsue Domain. By the time of the 7th lord, Matsudaira Harusato, who was a renowned master of the tea ceremony (under the psudeonym Fumai), excellent work was being produced by craftsmen, such as lacquerware by Kojima Shikkosai, wood craft by Kobayashi Jodei, Rakuzan ware by Nagaoka Sumiemon Sadamasa, and Fujina ware by Tsuchiya Zenshiro Masayoshi (Unzen).
In the Meiji era (1868-1912), Sakata Heiichi started yakumonuri lacquering, while Takahashi Kodo and others became recognized lacquer artisans. With Fujina ware, several potters set up a company to produce everyday earthenware with yellow glaze and ceramic ware for export.
In the Showa era (1926-1989), the work of potter Kawai Kanjiro, from Yasugi, was outstanding. Under his guidance, a mingei (Japanese folk art) movement emerged in Shimane, where Funaki Michitada and his son Kenji created pottery work inspired by mingei.
In 2005, Izumo-born Hara Kiyoshi was recognized as an Important Intangible Cultural Property for his iron-glaze works.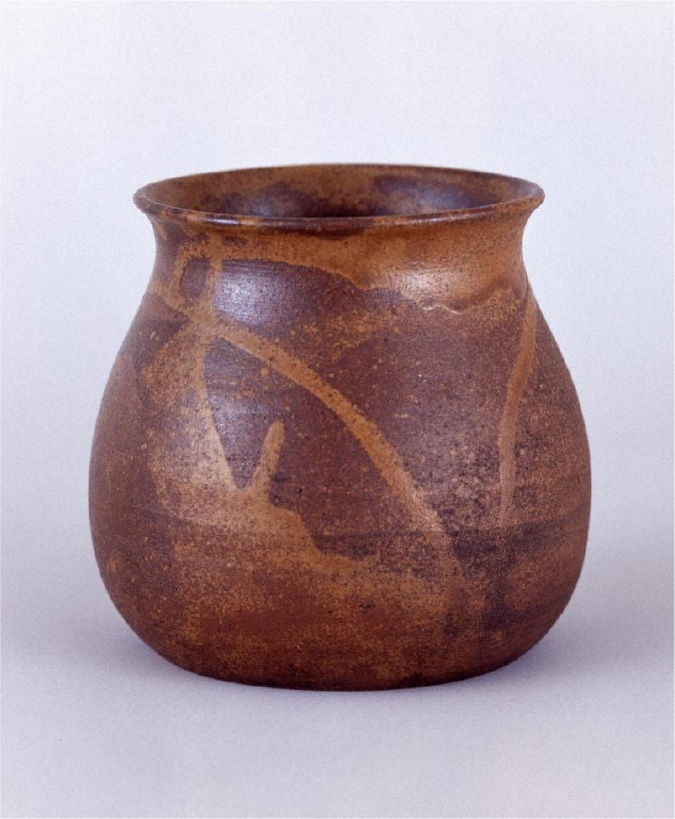 TSUCHIYA Unzen, Water jar after a Seto piece, Fujina ware, late Edo period
Izumo ware
The term 'Izumo ware' covers both Rakuzan and Fujina ware. In the Edo era (1603-1867), tea paraphernalia was produced in Rakuzan pottery and the Tsuchiya-Nagahara pottery of Fujina ware, under an official request from the Matsue Domain. Rakuzan pottery began when Kurasaki Gonbei from the Ogi Domain visited in the time of the 3rd lord of Matsue, Tsunachika, upon the request of the 2nd lord, Tsunataka. Tsuchiya pottery began with Tsuchiya Zenshiro Yoshitaka, under the order of the 7th lord, Harusato (Fumai), and his son Masayoshi was honored with the name 'Unzen' and a gourd-shaped seal from Lord Fumai for his outstanding craftsmanship. Nagahara pottery was established by Yozo Nobuchika, who was officially appointed by Lord Fumai to create tea bowls for him.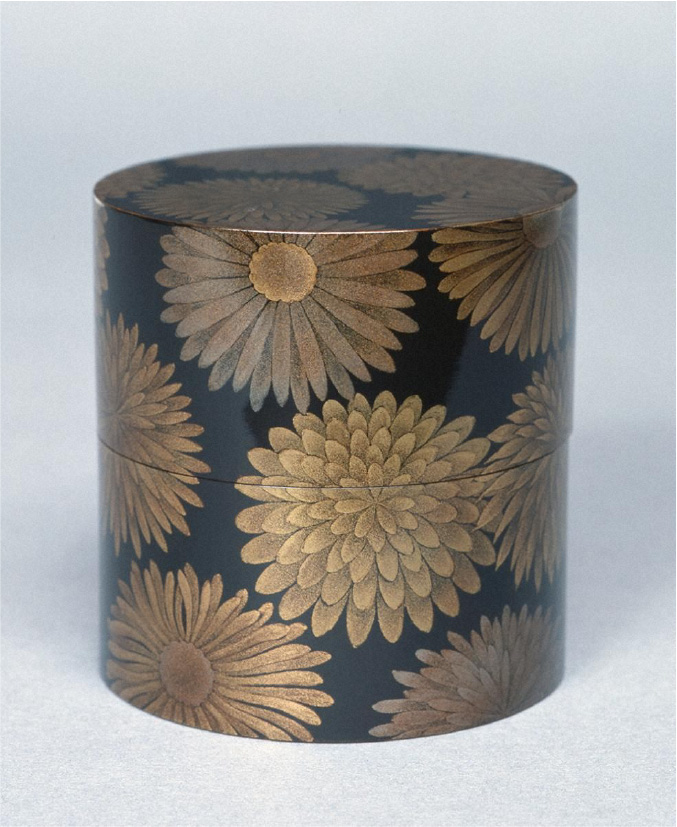 NURUDEAN Mitsuhide, Tea Container with Chrysanthemum Design, late Edo period
Shikkosai and Nurudean
Both Shikkosai and Nurudean are representative makers of Shimane lacquerware. Shikkosai was the name given to Seibei, the fifth member of the Kojima family who inherited the position of chief lacquerer to the Matsue Domain. He was given the pseudonym 'Shikkosai' by the 7th lord, Matsudaira Harusato (Fumai), for creating tea paraphernalia that he favored. Nurudean's name was Soichi, and he was also known as Teigyokusai Mitsuhide . He is said to have learned maki-e under the masters of Kajikawa Seisen by order of the 9th lord, Naritake. Soichi was granted the name 'Nurudean' by Naritake. He left masterpieces of tea paraphernalia.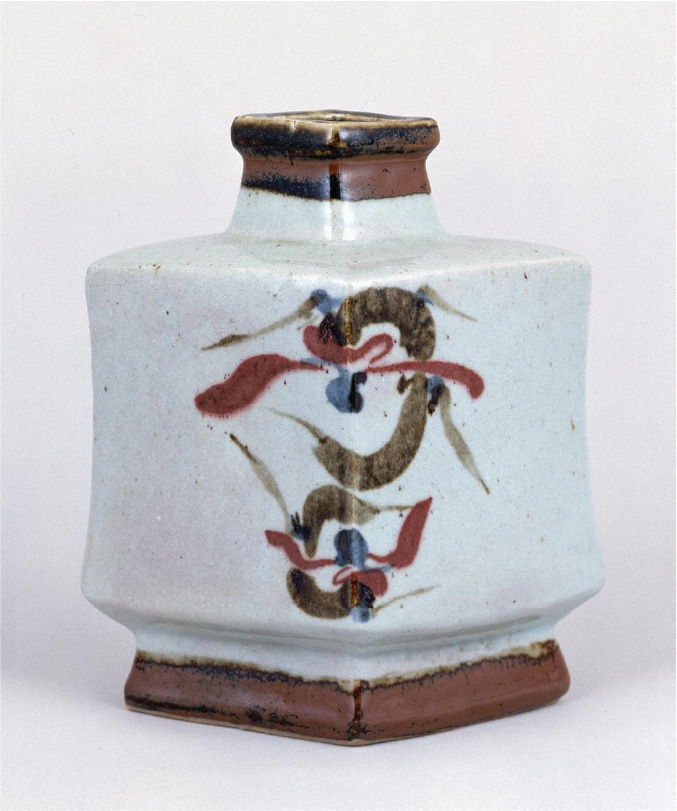 KAWAI Kanjiro, Vase with wild flower Design in White Glaze, 1939
Kawai Kanjiro
A potter born in Yasugi, Kawai Kanjiro was active from the Taisho period to the Showa period (around the early 1920s). After finishing Matsue Secondary School, he went on to Tokyo Higher Technical School to learn pottery, and then worked at Kyoto Municipal Ceramics Laboratory until he became freelance. He produced various works that transcend different styles, and even produced wood carvings, poetry, furniture, and metalwork designs. He is also known to have been involved in the mingei movement, together with Yanagi Muneyoshi and Hamada Shoji. The museum holds a comprehensive collection of Kawai's pottery work, grouped according to time.
Miscellaneous Work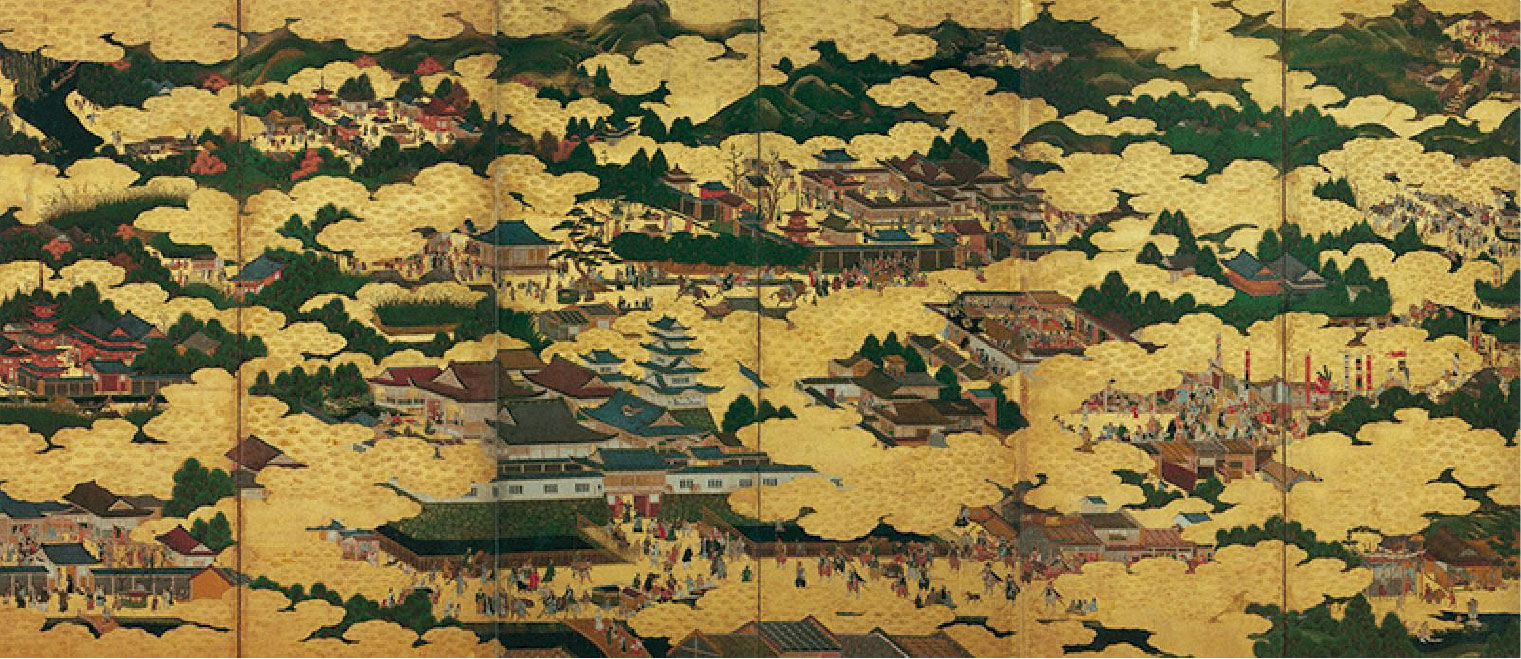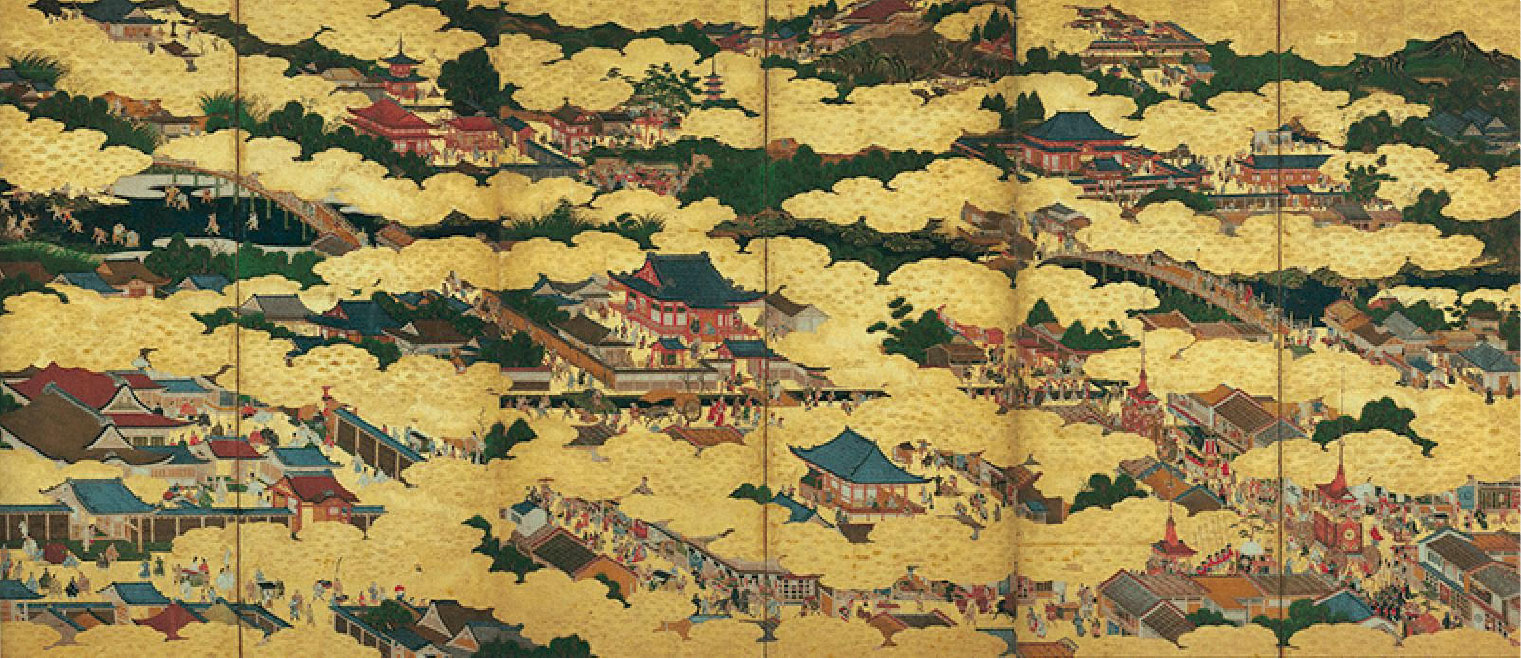 Artist Unknown, Folding Screens of Scenes In and Around Kyoto, ca. 1615-24 (deposited by the Bureau of Public Enterprise Shimane Prefectural Government)
We have endeavoured to not only collect work that fits into our unique themes of "water" and "related to Shimane", but also other significant pieces of art history, so that we can trace the path of Japanese and Western art. In terms of early modern painting in our collection, the splendid Scenes In and Around Kyoto (deposited by the Bureau of Public Enterprise Shimane Prefectural Government) must be mentioned, along with the masterpieces Rooster, Hen, and Chickens by Ito Jakuchu, and Red and White Plum Blossoms by Yamamoto Baiitsu. Modern Japanese paintings by Yokoyama Taikan and Hishida Shunso, and modern Western-style paintings by Takahashi Yuichi, Kuroda Seiki, Aoki Shigeru, and Kishida Ryusei have been added. Additionally, in Western painting, we hold work by painters of French academism who had a great influence on Western-style painters in Japan, such as Raphaël Collin and Jean-Paul Laurens; their realistic portrait work makes a fine contrast to the waterside landscapes of the Impressionists like Monet and Sisley. We hope that you enjoy the colorful artworks while envisioning the situation of the production time in Western countries and Japan, from the Edo era to today.

ITO Jakuchu, Rooster, Hen and Chickens, approx. 1789
An Image of Fowl Full of Family Love, by Jakuchu
Ito Jakuchu, a key figure of the mid-Edo period (around the mid-1700s), depicted the fowl he kept in his garden, favoring images that depicted them as fine and splendid. This piece, too, shows a rooster with his tail feathers standing elegantly, the beautifully speckled feathers and hard, angular feet in fine detail. The hen sitting at his feet is in a humorous position with its back towards the viewers. There are three chicks beside them, evoking the warm love of a family.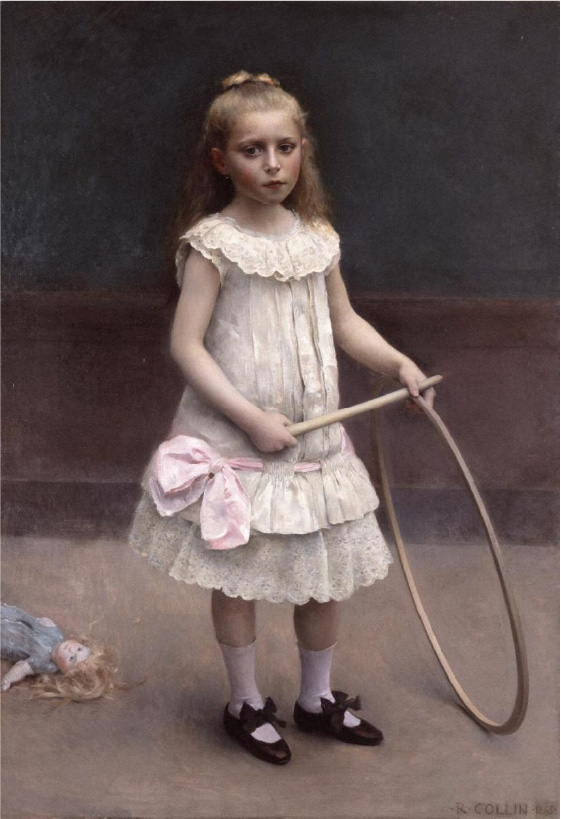 Raphaël COLLIN, Portrait of Miss Élise, 1885
Raphaël Collin, a Painter of French Academism
Collin was a successful painter of academic art who saw success in the French art circle with his warm and gentle style. He is known to have taught Japanese artists who travelled to Paris, including Kuroda Seiki, Okada Saburosuke, and Wada Eisaku. In Portrait of Miss Élise , he depicts a girl in a white dress with a big pink ribbon, holding a hoop and a stick, with all the details finely painted. Collin, with his mastery of female portraiture, expertly conveys the girl's charm in delicate expression.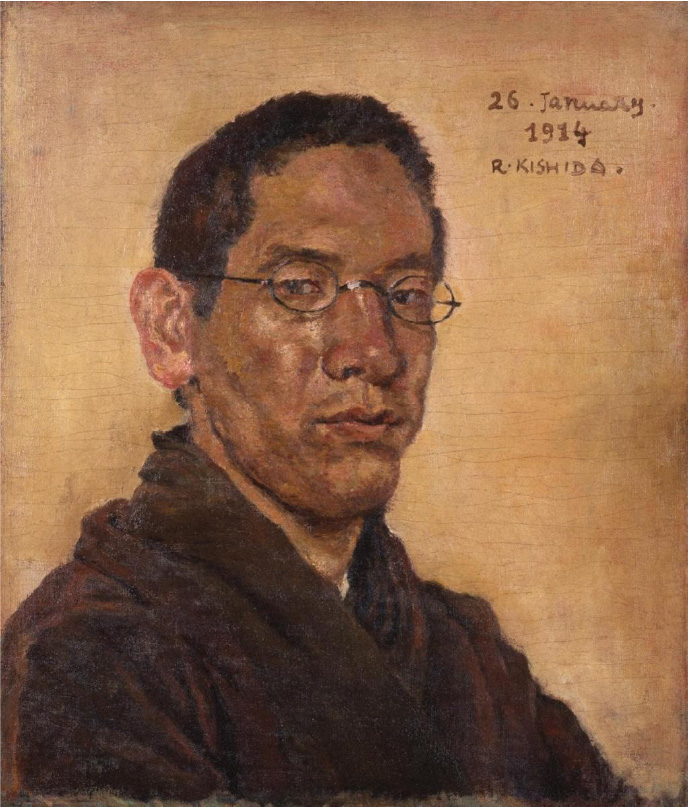 KISHIDA Ryusei, Self-Portrait, 1914
Self-Portraits by Modern Western-Style Painting Masters
For painters, self-portraits are one of the most familiar themes, but there may be no Western-style painter in Japan more dedicated to them than Kishida Ryusei. He worked on self-portraits from 1913 to 14 with such concentration that the majority of self-portraits he produced in his lifetime are said to have been created during that period. Around the same time he also produced countless paintings of the faces of his friends and acquaintances, so many in fact that his passion for doing so was referred to as "Kishida's headhunting." This shows how deep his obsession with faces was.
Indoor and Outdoor Sculpture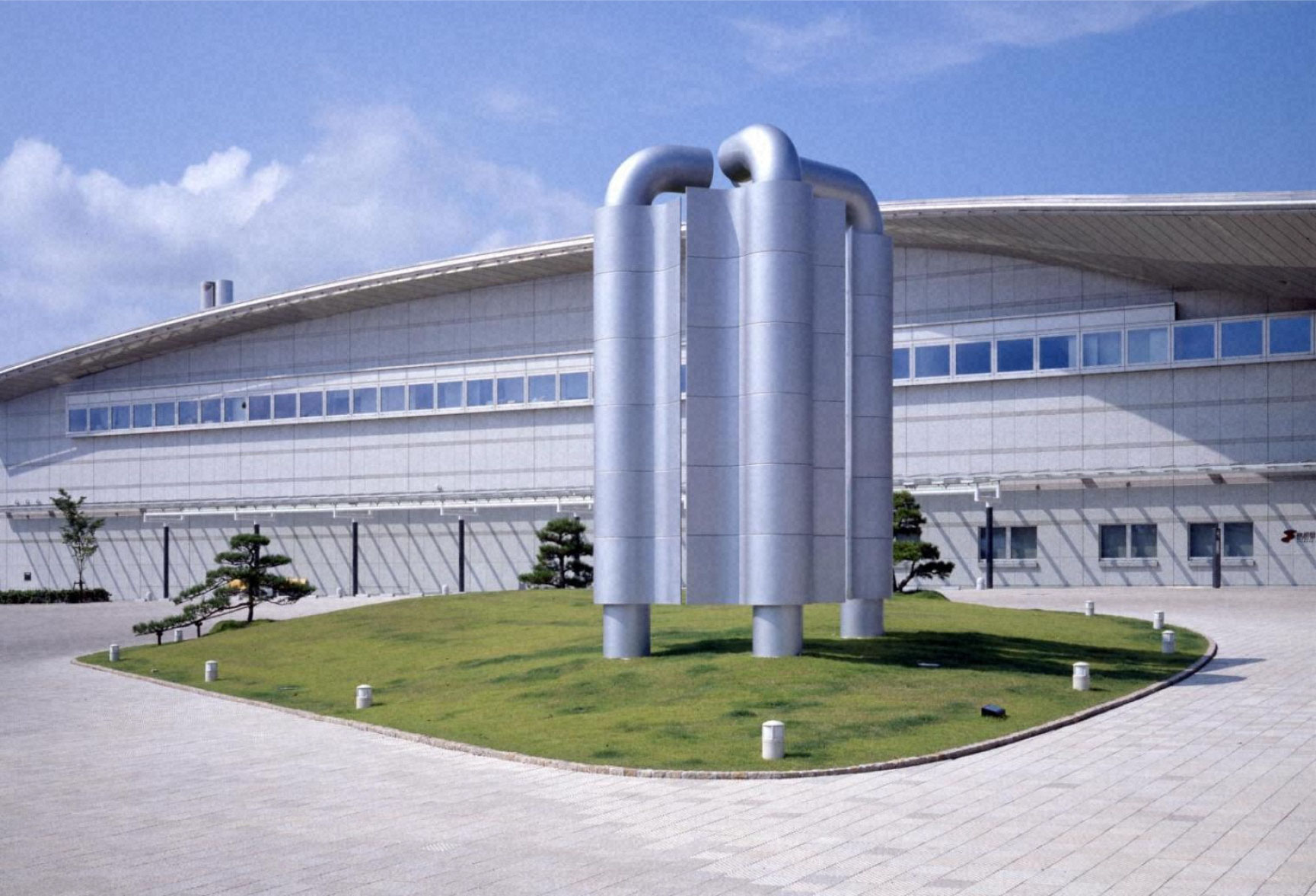 KIYOMIZU Kyube, Intimate Conversation, 1999
Shimane Art Museum displays many sculptural works both indoors and outdoors. In the front garden leading to the museum building, Conversation, which evokes the form of visitors looking at each other and talking, welcomes you. It is a piece by Kiyomizu Kyube (1922-2006), produced with the theme of "affinity" between sculpture and surrounding, resulting in a work that is at once a landmark and also a feature that merges harmoniously into the environment.
On the approach to the main entrance is a work by Venanzo Crocetti (1913-2003), based on the tradition of Italian figurative sculpture, and in the museum there are many bronze works produced by domestic and international artists on permanent display.
From the bright, open atmosphere of the lobby, with its huge glass windows, you can see the sculptures placed outside in the Shinjiko Lake area, with plenty of space around them, creating a rich view that resonates with nature. You can enjoy the whole museum as a viewing space, not only the exhibition rooms displaying artwork, but also the surrounding environment of the building.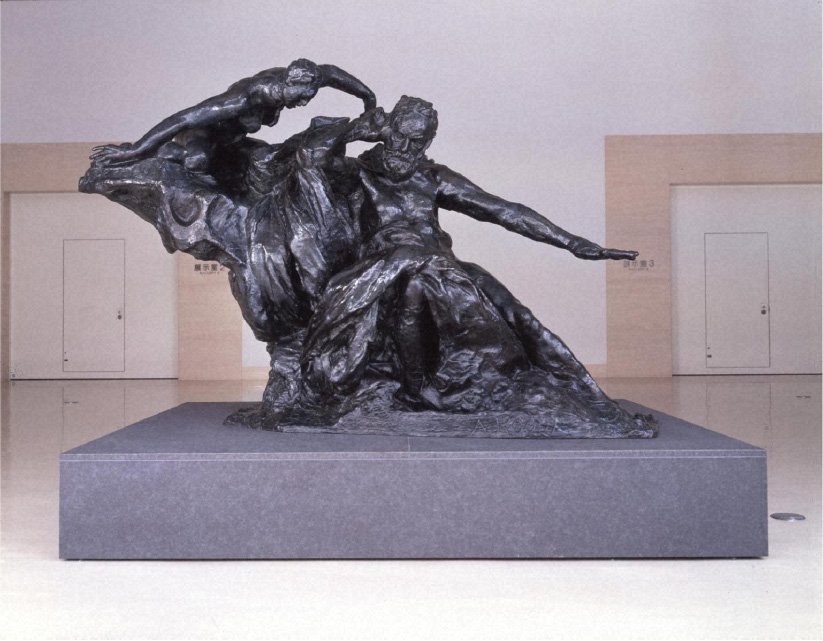 Auguste RODIN, Monument to Victor Hugo, 1897
Indoor Sculpture
We primarily exhibit the work of the major figures of modern French sculpture: Auguste Rodin (1840-1917), who expressed the internal life of humans through his work; Antoine Bourdelle (1861-1929), who developed monumental, strong composition; and Aristide Maillol (1861-1944), who portrayed many female figures in clear form.
Also, in the viewing terrace, humorous animal sculptures by Shibata Zenji (1936-) entertain visitors.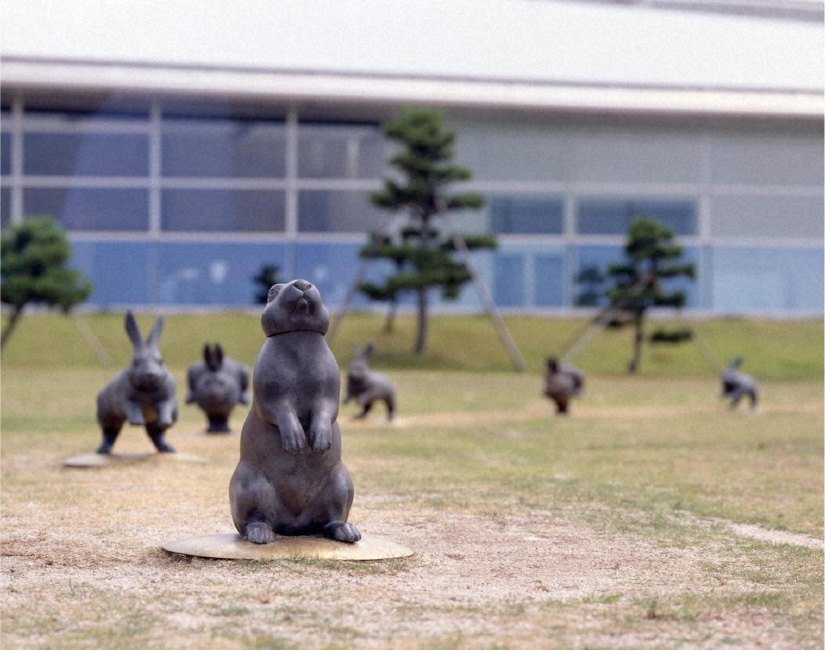 YABUUCHI Satoshi, Shinji-ko Rabbits, 1999
Outdoor Sculpture
Around the museum there are eight pieces of outdoor sculpture, six of which are placed along the shore of Shinjiko Lake. These include the symbolic monument of Shimane Art Museum, Sumikawa Kiichi's 10th Hongo Shin Memorial Prize-winning work Wind Gate, and abstract sculptural pieces with the themes of "wind", "earth", "light", and "play". Yabuuchi Satoshi's Shinji-ko Rabbits (1999) is also popular.
The Hokusai Collection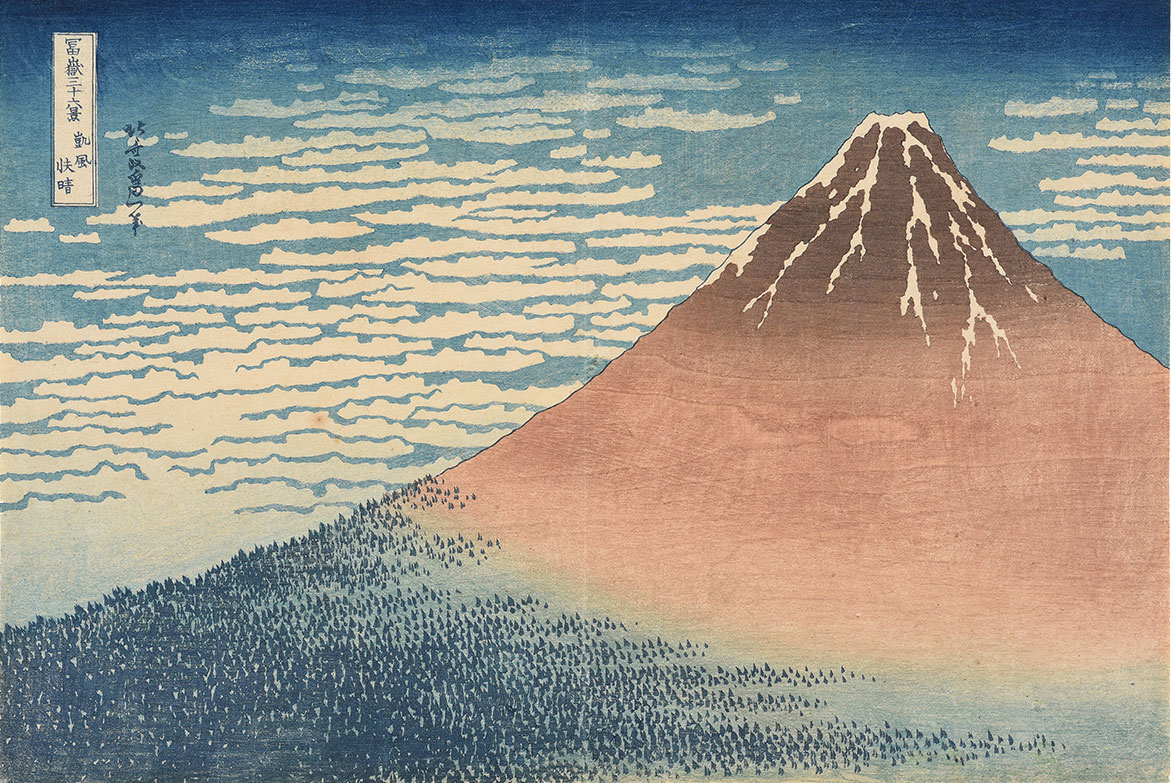 KATSUSHIKA Hokusai,South Wind, Clear Sky, from the series Thirty-six Views of Mount Fuji (Fugaku sanjūrokkei),ca. 1830-34, Shinjo Collection
The museum holds a collection of approximately 3,000 pieces of ukiyo-e work and documents, and part of it, which we are particularly proud in terms of volume and quality, is the rich collection of the ukiyo-e master who stands as a symbol of the Edo period (1603-1867): Katsushika Hokusai (1760-1849). The core of this collection is the Nagata Collection, donated in 2017 by the Tsuwano-born Hokusai researcher Nagata Seiji (1951-2018). This collection covers each field of Hokusai's work, including nishiki-e color prints, surimono prints, wood block print books, and hand-painted pieces, and also various themes, from major to minor, including several of the crowning achievements of his life, as well as rare or absolutely unique prints and documents. It also contains work by Hokusai's students, including Teisai Hokuba, and Totoya Hokkei, altogether reaching 2,398 works. Including groups of work from the former collection of Shinjo Jiro from Matsue (amongst them Thirty-six Views of Mount Fuji), and other pieces we have purchased, the overall number of artworks related to Hokusai owned by the museum is 2,500, of which 1,600 are by Hokusai himself. It is the collection of a single museum, yet it allows us to read the life of Hokusai through many epochs, which is one of its defining characteristics.
A Unique Rarity in the World
Shōki or Zhong Kui, is said to have appeared in a dream of the Tang Emperor Xuanzong and beaten the evil that had brought plagues. This legend led to him being worshipped as a talismanic god. In the Edo period (1603-1867), people wishing for the healthy growth of their boys put up screen rolls and flags on the day of the boy's festival, and images painted in red like this piece were said to be effective for warding off smallpox. This piece, which shows elements of kanga (Japanese painting influenced by Sung, Yüan, Ming, and Qing dynasty China) , was painted when Hokusai began calling himself Kusamura Shunro at the age of 34-35. It is very precious, as it is the only completed hand-painting existing in the world with the stamp of "Shunro."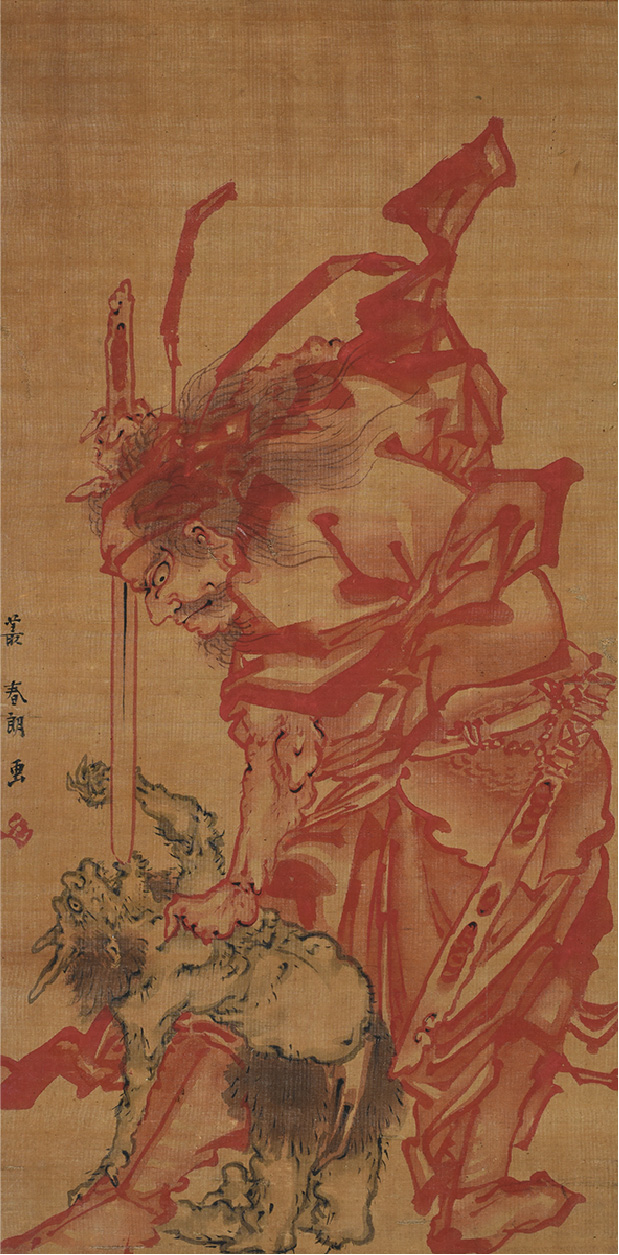 KATSUSHIKA Hokusai, Shōki, the Demon Queller, 1793-94, Nagata Collection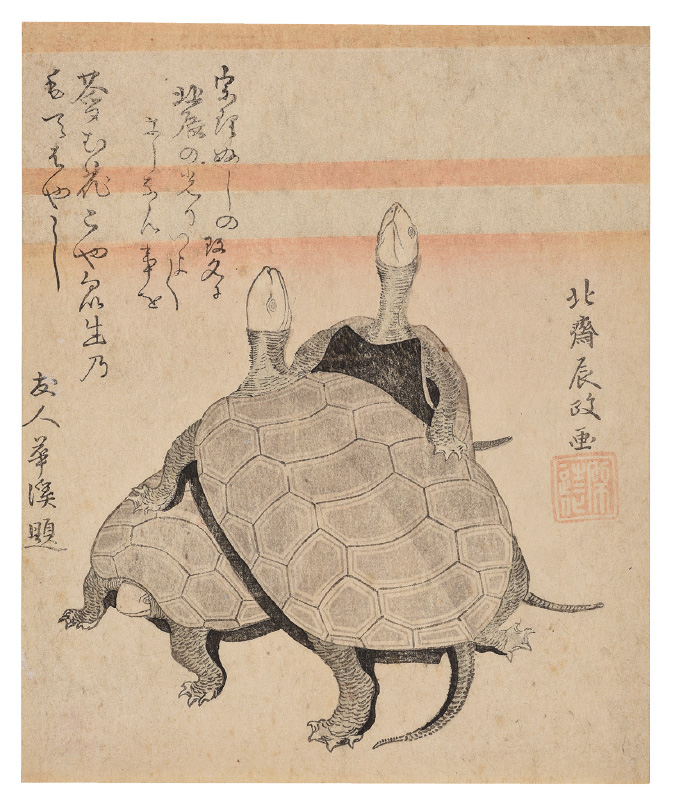 KATSUSHIKA Hokusai, Turtles, 1798, Nagata Collection
A Treasure Chest for Hokusai Research – Important Pieces and Documents
In 1798, Hokusai changed his pseudonym from Sori to Hokusai Tokimasa, and he produced this surimono print at his own expense to distribute to his friends and acquaintances. The tribute in the upper section is by his friend, calligrapher Inaba Kakei, and it wishes that the light of Hokushin (the North Star) that Hokusai worshipped shines brighter than ever, and that Hokusai is successful under his new name. It is a monumental piece, in which Hokusai declares himself an independent painter belonging to no school. Today, only a few of the prints remain, of which the Nagata Collection has two.

KATSUSHIKA Hokusai, Bunshōsei(Kaisei), 1843, Nagata Collection
The Culmination of Hokusai's Entire Career
Kaisei, which refers to the first star of the Big Dipper, used to be worshipped as the god of literature and examinations . As the kanji kai in its name consists of parts representing "demon" and "measuring container," when it was given form it was depicted as a demon holding a container. Hokusai's painting follows this tradition, depicting a demon with three fingers and toes holding a container. The robust, muscular red body is in the air, looking up at the remaining stars of the Big Dipper, a composition that is somewhat mystical. It is a piece that symbolizes Hokusai in his later life, as a passionate believer in the Big Dipper.
Shimane Art Museum, Designed by Kikutake Kiyonori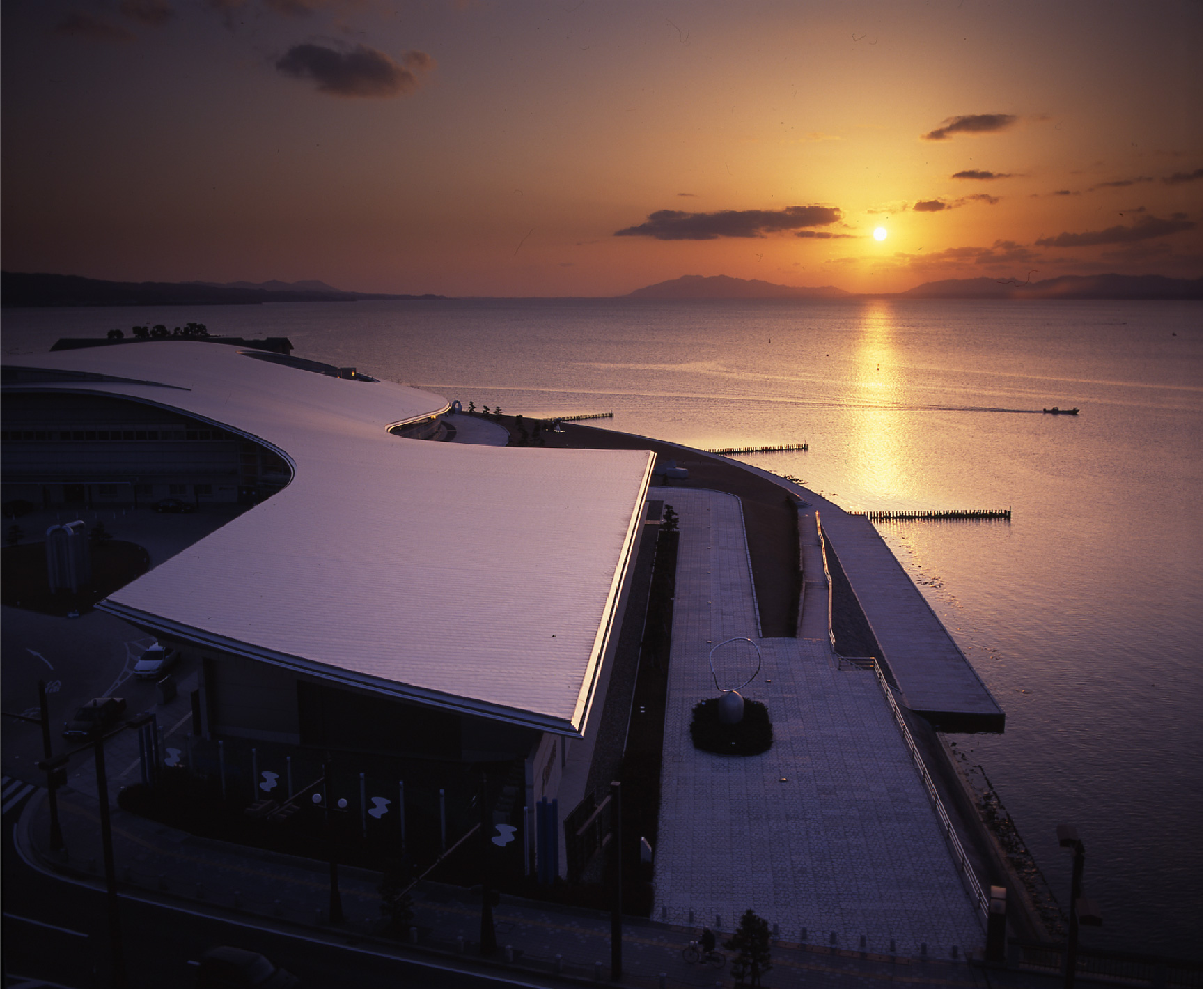 Shimane Art Museum
Shimane Art Museum (completed in 1998) was designed by Kikutake Kiyonori, a key figure in post-war architecture. His design was based on the concept that the shore creates rich expressions in harmony. The building is a unique structure inspired by a sandy beach by the shore, due to the characteristics of the site and its advantageous views of Shinjiko Lake.
40 years before this building, Kikutake designed the Shimane Prefectural Museum (1958), which was the predecessor of the Shimane Art Museum, and is now the third branch office of the prefectural government. At that time, Kikutake was only in his late 20s, and he has talked about his visit to Shimane in 1957 and how he was moved by the architecture of the Main Hall of Izumo-Taisha Shrine during his tour with Tanabe Choemon. Later, he designed the Izumo-Taisha Shrine Cho-no-ya Administrative Building (1963, no longer standing), which gained him a number of architecture awards in and out of the nation, raising his profile.
Kikutake was also commissioned by Tanabe, then Governor of Shimane, to build the Shimane Prefectural Library (1968) and the Shimane Kenritsu Budokan (martial arts stadium ) (1970). Together with the Prefectural Museum and Shimane Art Museum, visitors can see four public buildings by Kikutake in total.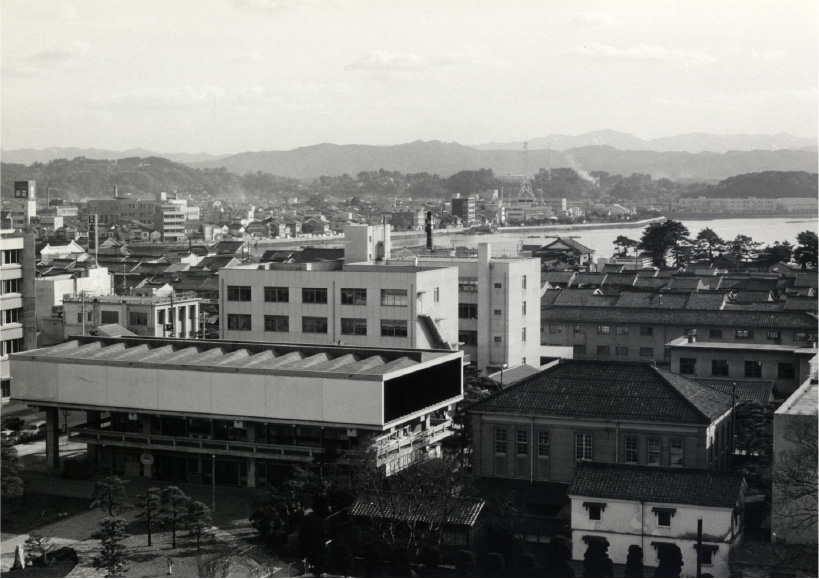 Shimane Prefectural Museum and Shirakata Primary School (top right, across the water ) in the 1960s
Shirakata Primary School and the Museum
Shimane Art Museum is built on the former site of Shiragata Primary School, which was completed in 1962. However, in the year before that, Kikutake visited Shimane to plan the Izumo-Taisha Cho-no-ya Administrative Building, and was asked for his opinion about the architecture of the school. Records show that the basic plan was changed as a result of his insights regarding the site, which was an undulating sand dune at the time, so Kikutake actually visited the site of this museum at a very early period. After building the Prefectural Museum, Kikutake designed many buildings in Shimane and made many visits here. He had a deep understanding of the climate of the area.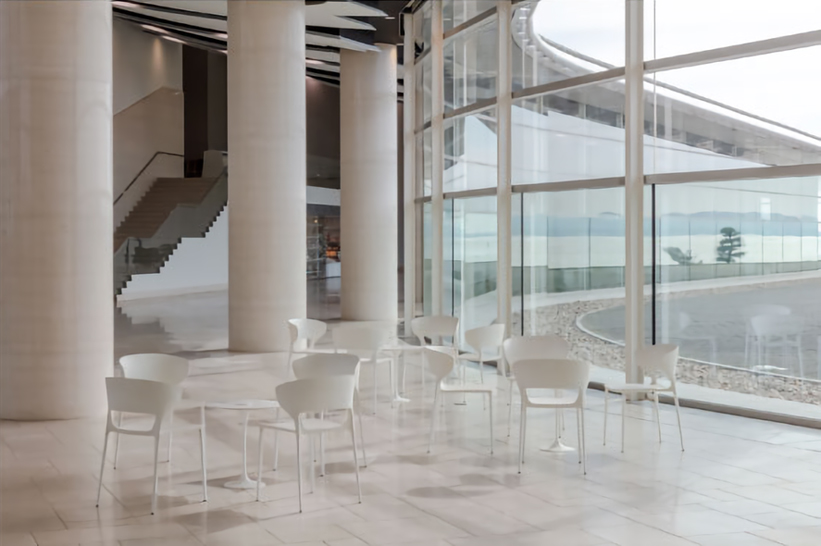 Museum Entrance Lobby
The Entrance Lobby and its View of Shinjiko Lake
You can enjoy the view of Shinjiko Lake from the entrance lobby on the first floor of the museum. Visitors enter the curved museum building from the South East, flanked by its walls , towards the lake they can view through the glass windows. This entrance was planned to counter the strong monsoons from the North West. Kikutake had elaborate ideas when he designed the Prefectural Library 30 years ago: he regarded the entrance and lobby as a connecting space that is of great importance for local citizens who can visit public architecture on a daily basis.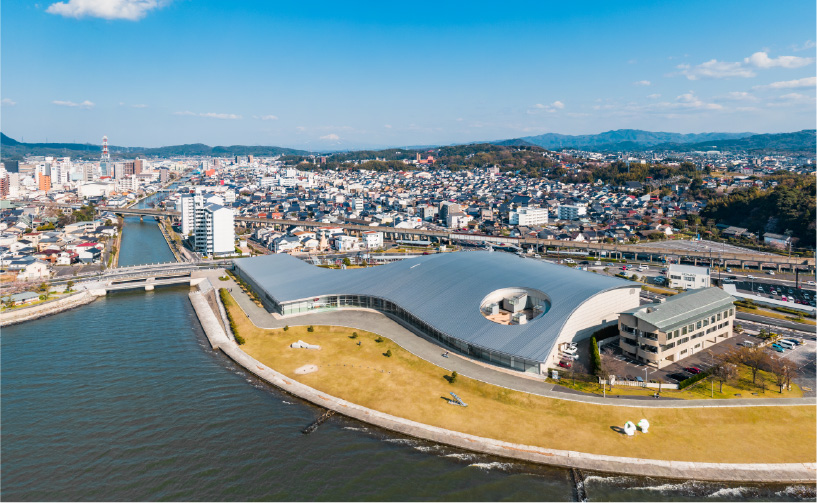 Shimane Art Museum From Above
Repair Work
Kikutake claims that what he thought at Izumo-Taisha Shrine in the 1950s-60s was the starting point for himself as an architect. One of the ideas he contemplated then was the fact that the "extremely generous space" of the shrine remains for generations. 40 years later, when he was designing the Shimane Art Museum, Kikutake placed the image of generosity from ancient Izumo on the large, gently sloping roof. Kikutake passed away in 2011, and the museum conducted large-scale repair work in 2021. After a closure of around a year, the museum can again continue into the future.